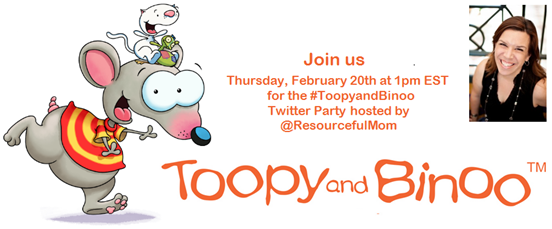 Today (2/20/2014) at 1 p.m. ET join Toopy and Binoo for the #ToopyandBinoo Twitter Party, hosted by the awesome Amy Lupold Bair from Resourceful Mommy. Toopy and Binoo is an adorable animated series that is already a phenomenal hit TV series in Canada, Toopy and Binoo is now available for the first time ever to US audiences exclusively on the Toopy and Binoo TV YouTube channel.
By joining the party, you will have a chance to win fabulous prizes, including Amazon.com gift cards and Toopy and Binoo plush toys!
Please RSVP by clicking here: http://resourcefulmommy.com/13577/toopy-and-binoo-twitter-party
Then, join the conversation on Twitter by using #ToopyandBinoo and following @ResourcefulMom as well as @ToopyandBinooTV.
Hope to "see" you there!