This is sponsored content. All thoughts and opinions are my own. 
Check out 15+ Refreshing Summer Drinks

by Briana Carter at Foodie.com
It is now summer. This means lots of days and evenings lounging by the pool with a refreshing drink or two. Maybe, er, three if the conditions are right. If you are looking for some new recipes for your summer refreshment, this is the right post for you. We have scoured the internet extensively to put together this list of more than 15 refreshing and delicious summer drinks.
Rosemary, Mint, Lavender? Yes, I have all of these herbs in my garden this year. This means I absolutely have to try out some of these great recipes. Oh, and be sure to CRUSH! the leaves of your herbs to really release the flavor.
From drinks that just look pretty (would I actually be able to recreate the beauty of the Rainbow Sangria?), to refreshing new take on old favorites (like this Sparkling Raspberry Lemonade), to I JUST WANT THIS DRINK BECAUSE IT IS MADE IN AN ACTUAL PINEAPPLE (Check out this Tropical Slush), we have you covered from all ends.  Head over to my Foodie Collection to get all the details on any of these recipes.
15+ Refreshing Summer Drinks
Meyer Lemon Lavender Mojitos – I have lavender in my garden so I feel like I must make this!
Tropical Slush – Looking pretty spiffy in the pineapple
Super Skinny Margaritas – Will they make you skinny if this is all you drink?
Classic Margarita – Sometimes the classic is just perfect.
Blackberry Pear & Mint Smash – Blackberry + Pear + Mint has to equal healthy, right?
Sparkling Pineapple Lemonade – I want to sparkle!
Watermelon Coolers – Watermelon IS summer.
Fresh Strawberry Coconut Margaritas – I want to drink this from the screen.
Sparkling Raspberry Lemonade – Fresh take on a classic
Rosemary Lemonade Slushies – Another one I have in my garden
Rainbow Sangria – So Pretty!
Peach Margarita Recipe – Would be great for August when Peaches are in season!
Coconut Creamsicle Margaritas
Skinny Margarita Recipe – Might as well drink something skinny.
Sweet Tea Vodka Lemonade Mojitos
Blue Hawaiian Cocktail – Sounds like a great pool drink!
The Best Sangria – The internet says so, so it must be true!
View beautiful images and find the links to all the drink recipes over at my Foodie Collection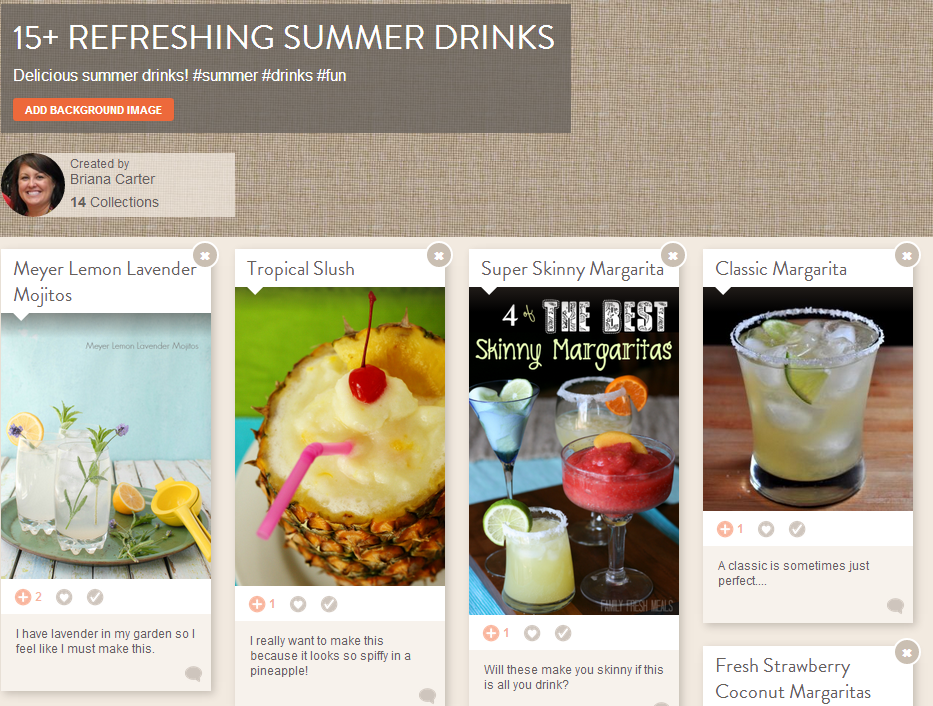 What is your favorite summer drink? Please share!
This post was sponsored by Foodie.com. Rest assured, this Post was written by me and was not edited by the sponsor. Read more on my Disclosure Policy.