Are you the house in neighborhood that goes all out for Halloween, the one that doesn't do anything, or somewhere in between? Fake spiderwebs are cheap and fun, but most of the ready made decorations can be pricey. With a trip to the dollar store you can find some great items for your budget. A dip into your craft supplies can make them even better! Here's 25 budget DIY Halloween decorations that you can make for around $5 each – or less!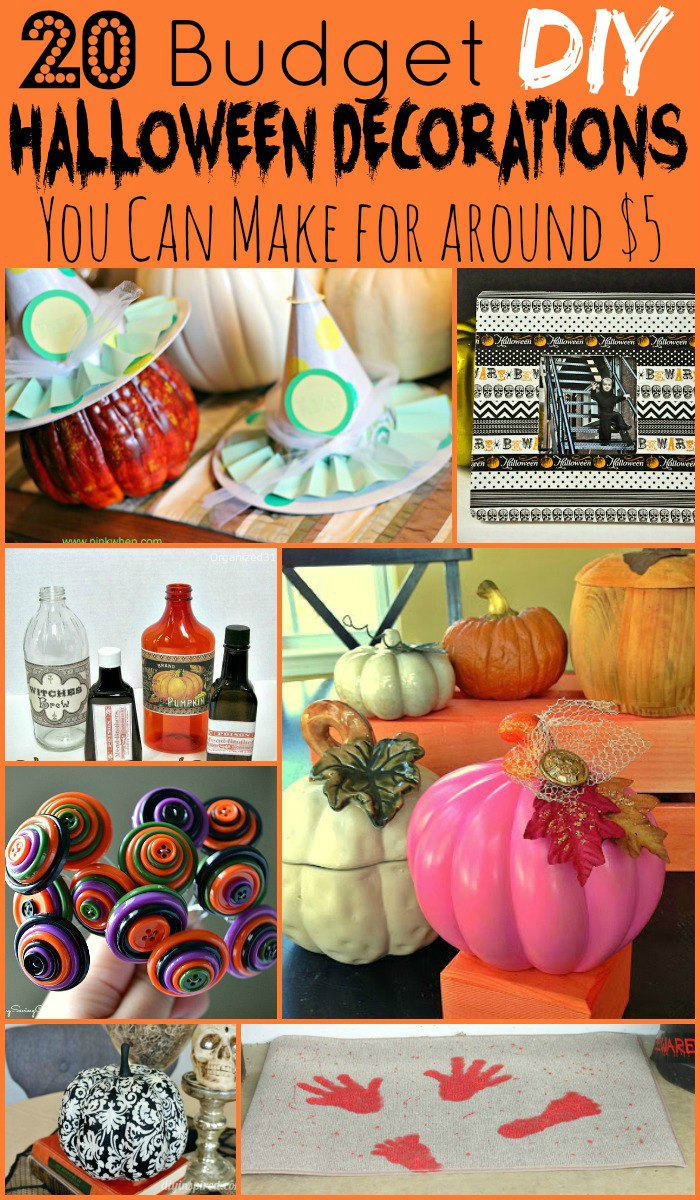 Dress up your pumpkins with adorable Embellished Witch Hats, made from a simple craft store paper mache witch hat, some paint, and some little scraps you probably have in your craft closet.
Take some plain picture frames and make them festive like these Halloween Washi Tape Frames.
Old bottles? Now they're potions and poisons when you make these Upcycled Bottle Halloween Decorations.
Some paint and leftover craft odds and ends are great for a Dollar Store Pumpkin Makeover.
Fresh flowers don't really scream "Halloween," so fill your vase with a fun Halloween Button Bouquet!
A great way to use up fabric scraps is to make a Decoupage Fabric Pumpkin. Economical and elegant!
Spook your visitors with this Halloween Horror Doormat. Just a little red paint turns a cheap mat into something very creepy!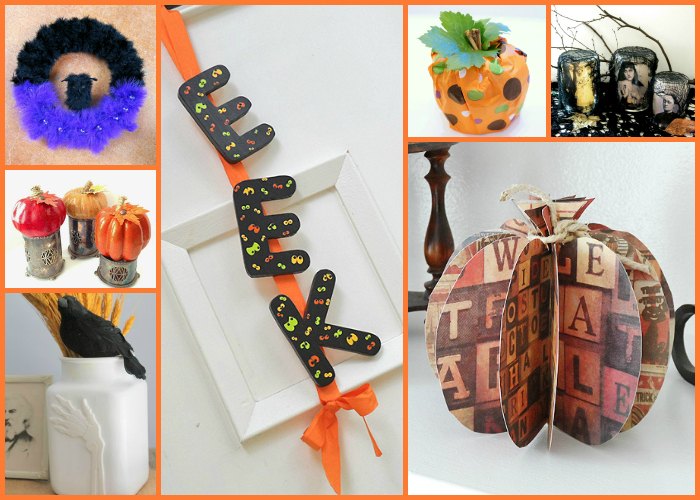 Add a little bling to your front door with this gorgeous and feathery Glam Halloween Wreath.
Wooden letters, paint, and a ribbon are all you need to make this cute Eek Door Banner.
Don't forget the bathroom! Turn extra rolls of toilet paper into a fun (and functional) decorations. Just wrap with some tissue paper, add some foliage, and you have Pumpkin Toilet Paper Rolls.
Need something creepier? Some old jars plus some vintage photos can be turned into these super spooky Halloween Scary Jars.
Another great use for those small drab dollar store pumpkins – add glitter! These Glitter Dollar Store Pumpkins look great on the mantle.
Skeleton vase from Pottery Barn? $200. Skeleton vase DIY? $2! The Bone Hand Vase is a simple and elegant DIY knock-off.
For the price of a few scrapbook pages, you can make a super cute 3D Paper Pumpkin. Easy and cheap enough that you could make a whole bunch!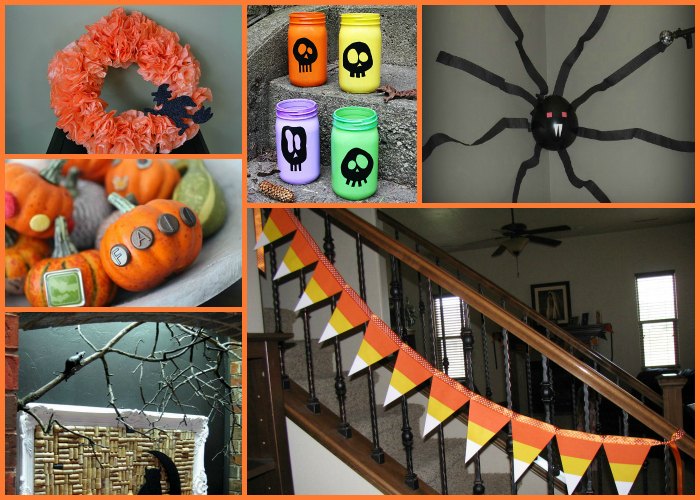 You can make an elegant wreath from an item you have in your kitchen! Everyone who comes over will be dying to know where you got the Coffee Filter Halloween Wreath.
Halloween doesn't have to be all orange and black. These Colorful Skull Luminaries are a great way to add variety to your decorations!
Ahhh! What's that in corner?! Just a simple Spider Wall Decoration made from a balloon and paper.
You can use fake or real mini pumpkins and gourds to make a super cute centerpiece. By just adding some decorative brads, they turn into these cute Bradded Pumpkins.
This adorable Candy Corn Bunting is made from cardstock and ribbon and would look great anywhere in the house!
Sometimes the best decorations are the one that cost nothing at all. If you have some black spray paint on hand and trees nearby, you can make a Spooky Branch Decoration without having to spend a thing!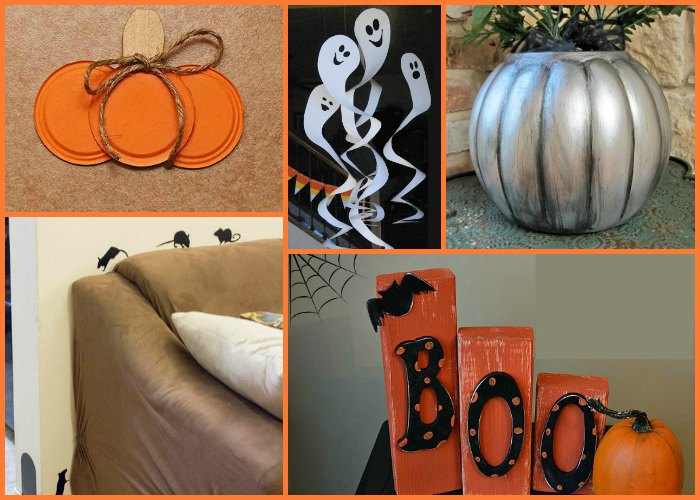 A Canning Jar Lid Pumpkin is a cute addition to baskets, picture frames, or really anywhere that needs a little "pumpkining."
You can make these fun Spinning Ghosts for almost nothing thanks to a free printable pattern!
Turn a cheap pumpkin bucket into a Faux Pewter Pumpkin and use it as a classy vase.
Eeek! These Vinyl Mice Wall Decorations really make it look like you have a creepy critter infestation!
Making DIY Wooden BOO Blocks is a great way to use up scrap wood – and it looks cute too!
With all of these great ideas, you can decorate your whole house inside and out without breaking the bank. It will look great, and no one will know that you didn't spend hundreds of dollars on decorations! Happy crafting!
Did you enjoy this post? Find more money saving tips here.