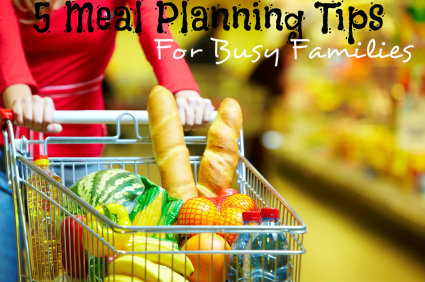 Spring is here and the need to freshen up your weekly dinner recipes may be part of your "spring cleaning". The "what are we having for dinner" moment can be a source of dread and frustration for many people. As a mom of four kids who are extremely active in everything, I feel your pain.
Here' are some of my favorite meal planning tips to help you save both time and money:
Gather 15-20 family favorite meals
Sit down with your family and ask them what their favorite meals are. You may be surprised by some of the meals they love or some that just don't appeal to their taste buds. The last thing you want to do is waste time and money by preparing meals that your family doesn't enjoy. Organize your recipes with a notebook, spreadsheet, or use bookmarking sites like SpringPad.com, Ziplist, or Pinterest.
Once you have the family's preferences on meals, inventory your pantry and freezer to see if there are ingredients on hand you can utilize for your plan. Be sure to check to see what items you could possibly substitute in your recipes, such as rotini for macaroni. Oftentimes, you can make adjustments based on what you already have on hand to fit the recipe.
Create your menu
Write your menu on a blank calendar or simply on a piece of notebook paper. Write out each day of the week with slots for breakfast, lunch, and dinner. If you are a beginning meal planner, consider starting with just dinner to keep things simple.
Consult your family calendar and make any notes of specific activities for certain days. This helps to have written out when deciding which meal is best suited for a particular night. Do you have a baseball game? Is there a school program? Take these into account when planning your menu as you want to make it as easy as possible on busy nights.
Create a shopping list
Create your shopping list by consulting weekly circular for your favorite grocery store or use free coupon match-up site. There are also list creating sites such as Ziplist.com, which will help you create a shopping list online and will even create your list based on the recipes you choose.
Fast 5 meals
Fast 5 meals are meals that you can quickly make at home and get on your table in less time than it takes to order take-0ut. Tape a list of your fast five meals on your refrigerator or pantry door. You will save time and money because you won't be tempted to stop for fast food as you know you have these items in your pantry. Meals that are good for this list are quesadillas, spaghetti, pizza croissants,  tacos, and a new household favorite pepperoni pizza balls. These will be things you know your family likes and things you normally have stocked in your pantry.
Freezer meals
Make a double batch of your family's favorite meals each time you cook to quickly create a freezer full of home-cooked meals. I love to make a double batch of lasagna, enchiladas, chili to name a few. You can save so much money by preparing your own freezer meals  that also do not contain all the preservatives of store purchased freezer meals.
Bulk cook and freeze meal components. I often do this with ground beef or chicken breasts. I will cook a double, triple, or quadruple batch and freeze to use on another day. Doing this makes it easy for beef tacos to be on our fast five meal list. See if there is a Zaycon meat delivery in your area for $1.79/lb chicken!
While these tips may seem simple, the savings in dollars and time can be significant. Before you know it, you could cut your grocery bill in half while ensuring you are providing your family with healthy and delicious meals every night of the week.
How do you plan for busy evenings?