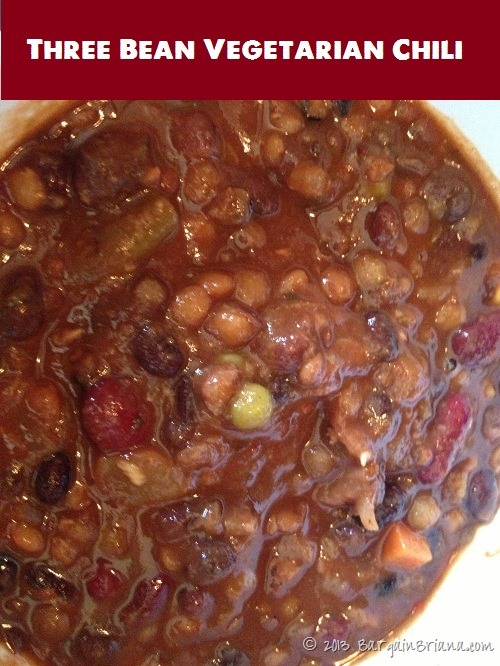 As part of the 2013 goals and resolutions, I'm working on cooking with ingredients we already have on hand in our pantry and freezer. This recipe incorporated many of the ingredients we had in the pantry to make a spicy, delicious three bean vegetarian chili. It was a little too spicy at first so I ended up adding one tablespoon of cocoa powder to tame it down a bit. When I make it again, I'd probably do the same! Lentils are becoming one of my favorite new beans!
Isn't this a colorful mixture before cooking?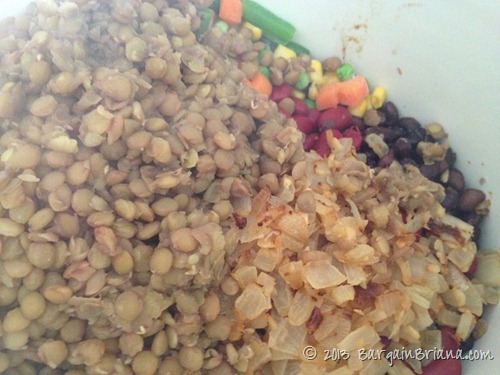 Three Bean Vegetarian Chili
This was a delicious three bean veggie chili that is packed full of protein. It makes a huge batch and I was able to freeze a few portions for meals at a later time!
Ingredients
2 Tablespoon oil
3 cloves minced garlic
1 small onion
1 can adobe chilis
2 cans (30 oz) black beans
1 can (15 oz) red beans
1 cup (uncooked) lentils, cooked
2 teaspoon cumin
1 teaspoon fiesta citrus spice
½ teaspoon oregano
1 teaspoon sea salt
1 can tomato paste
1 cup tomato juice
1 cup mixed vegetables
3 cups water
1 Tablespoon cocoa powder (if you want to tame the spiciness a bit)
Instructions
Heat oil, minced garlic, and onion on the stove in a pan over medium heat until onions are soft.
Combine all the ingredients in your slow cooker.
Cook for 7-8 hours on low.
Garnish with sour cream and cheese.
View the Recipe Index for a complete list of recipes. For the most recent vegetarian recipes posted on the blog, go here. To view all the recipes post on the blog, go here.