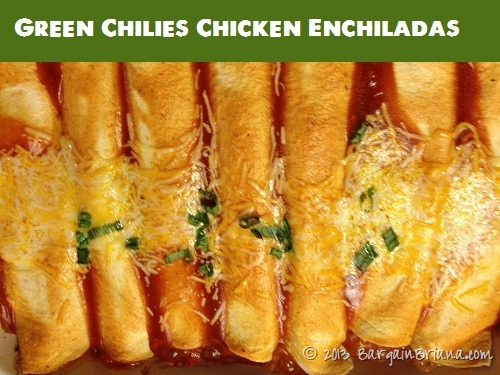 This Green Chili Chicken Enchiladas recipe was a hit! Served with cilantro lime rice for a easy dinner. You can make your own enchilada sauce or use canned for convenience. I was able to make this recipe after getting off work one evening – so super simple! I was also able to use a couple of ingredients – cream of mushroom and enchilada sauce – we had in our pantry as part of our 2013 Pantry Challenge.
This recipe was part of the Del Monte Southwestern Tomato Kick-off Sweepstakes using the new Del Monte Petite Cut Diced Tomatoes with Green Chilies. I use diced tomatoes in a ton of recipe and I love the convenience of these new Petite Cut Diced Tomatoes which pack huge flavor. Check out more recipe ideas on the Del Monte Pinterest board.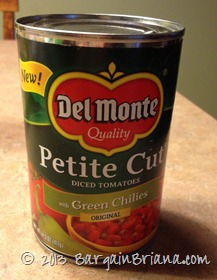 Here's the recipe:
Green Chilies Chicken Enchiladas
Ingredients
1-2 Tablespoon Olive Oil
1 can of chicken (or approximately 2 cups of shredded chicken)
]1 teaspoon minced garlic
1 teaspoon cumin
1 tsp oregano
1 can Del Monte Petite Cut Green Chilies
1 can cream of mushroom
1 cup shredded cheese, divided
tortillas (flour or corn)
1 can enchilada sauce
toppings: green onions, sour cream, lettuce, etc.
Instructions
Heat olive and garlic in a pan on medium heat.
Add chicken, cumin, oregano.
Cook for 2-3 minutes.
Add tomatoes and cook for additional 5 minutes on medium heat.
Remove from heat.
Combine mixture, mushrooms, and ½ cup cheese in a large bowl.
Spray 9.5" x11" dish with non cook spray.
Add about ½ cup mixture to each tortilla. Roll and place in pan.
Top with enchilada sauce. Make sure that the sauce hits every bit of tortilla.
Sprinkle with remaining cheese and green onions.
Cook at 350 degrees for around 20 minutes or until bubbly.
A few more pictures….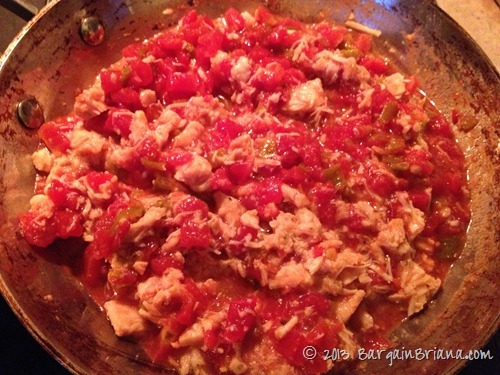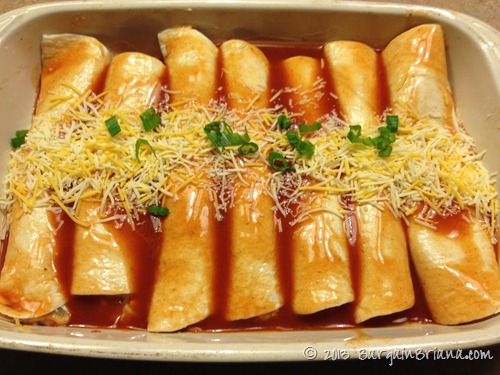 **The Del Monte products, information and two gift packs have been provided by Del Monte. Ingredients were provided by Del Monte for this post. Opinions, recipes, and ideas are my own. See more on full disclosure policy.
View the Recipe Index for a complete list of recipes. For the most recent vegetarian recipes posted on the blog, go here. To view all the recipes post on the blog, go here.