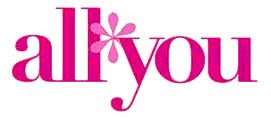 Have you heard? All You magazine is now available on newsstands everywhere you shop, and they're having a Twitter chat involving bloggers to celebrate! And I want you to be there with me! I'll be taking part on the Twitter chat along with other bloggers and, of course, All You magazine.
The Twitter party will take place on Friday, March 28, from noon EST to 1:00 pm EST. We'll be chatting about budget-friendly recipes and tips and tricks for saving money on groceries.
All You be asking questions on their Twitter page with the hashtag #AllYouEverywhere. You can participate in the chat by replying @allyou from your Twitter with answers to their questions. Just don't forget to use the hashtag #AllYouEverywhere so they can see it!
And guess what? All You will be giving away a chance to win gift cards to those who participate in the Twitter party. Ten winners will win $25 AmEx gift cards during the chat. Follow @allyou & @bargainbriana and don't forget to join us at the Twitter party for a chance to win!
To learn more about All You magazine, visit allyou.com/value or look for their April issue on a newsstand near you on March 28. Remember, if you want to subscribe to All You Magazine, there is a introductory price of just $5 for the first year offer going on right now.