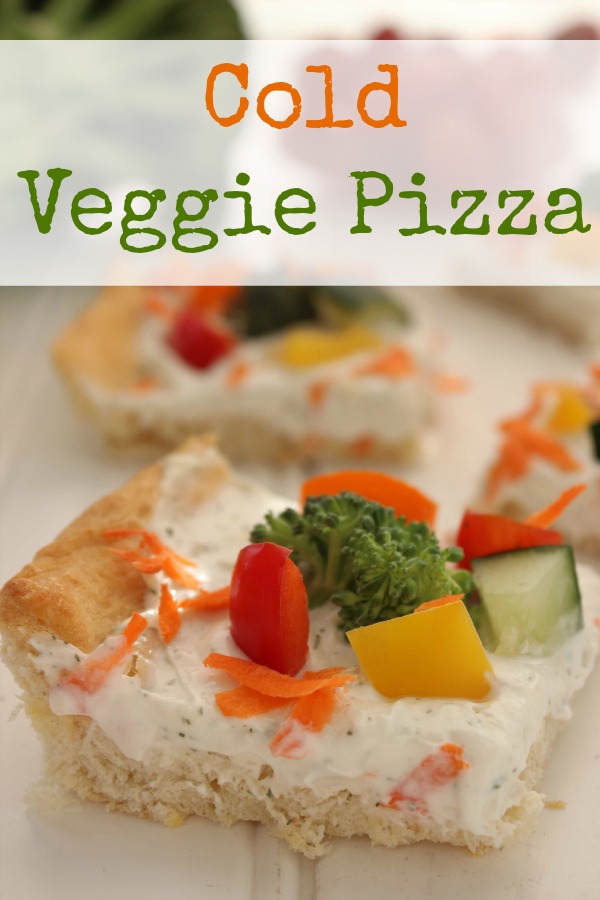 Do you ever struggle to get your children to eat their vegetables? The good news is: you're not alone. The even better news is: I have a Veggie Pizza recipe that will change that.
If you've never tried a Veggie Pizza before, you're in for a treat. A far cry from boring old veggies and dip, this Cold Veggie Pizza recipe makes eating veggies fun and delicious. With refrigerated crescent rolls, cream cheese, sour cream, Ranch seasoning and a colorful assortment of kid-friendly veggies, this is one healthy snack your kids won't be able to resist.
Another great thing about this recipe is that it is very easy to make. No need to get online and search for homemade Pillsbury Crescent Roll recipes (though you can if you want!); just roll out the dough from the can, bake, top with yummy ingredients and cool for a pizza that is as delicious and pretty as it is healthy.
You can even let your kids help. Let them choose their toppings and arrange them in fun patterns and textures. They'll have so much fun decorating that they'll forget they aren't supposed to like it! After all, it's hard to argue with something you've created yourself.
The next time you want a fun activity to do with your kids and you need them to eat a few vegetables, pull out this Cold Veggie Pizza recipe. You'll all be glad you did!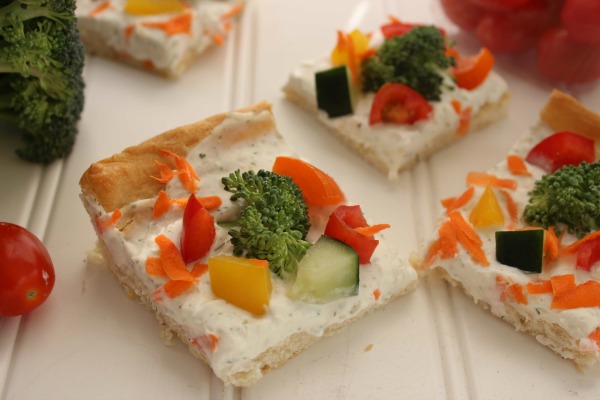 Cold Veggie Pizza Bites
Ingredients
2 cans Refrigerated Crescent Rolls
8 oz softened Cream Cheese
16 oz Sour Cream
1 packet (1/3 cup) dry Ranch Dressing mix
1/2 cup Broccoli florets
1/3 cup Cucumber slices (cut in quarters)
8 chopped Cherry Tomatoes
1/4 cup shredded Carrots
Instructions
Heat oven to 375.
Unroll both cans and press dough into bottom and sides of ungreased raised edge baking sheet or jelly roll pan,
Bake 10-15 minutes until lightly browned.
Cool completely.
Mix together cream cheese, sour cream and dressing mix until blended.
Spread mixture over crust.
Decorate with vegetables.
Refrigerate until ready to serve.


View the Recipe Index for a complete list of recipes. For the most recent vegetarian recipes posted on the blog, go here. To view all the recipes post on the blog, go here.