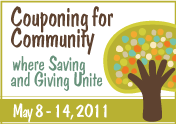 We all know the power of coupons. For those of you utilizing coupons, have you thought to use your awesome couponing skills to help others in your community? Kaley, Cha-Ching on a Shoestring, and Stamp Our Hunger are working together through Couponing for Community. The goal is to accumulate 10,000 items during the Stamp Out Hunger Week, which is May 8 – 14, 2011.
(Looks like there is already over 7,000 items collected so we are well on our way to 10,000!)
How You Can Help:

If you have a surplus of items in your stockpile, which many couponers do, consider leaving them for your mail carrier to pick up by placing non-perishable food items in a bag and leave at your mailbox on Saturday, May 14, 2011. Your mail carrier will pick up and deliver to local food banks or pantries. Check here to see if your local post office is participating.

If you think it might rain, be sure to leave your items in a water proof bag so the items don't get ruined.
Be sure to like Couponing for Community on Facebook and add your donation items so we can track the progress the frugal-o-sphere is making to help the community!