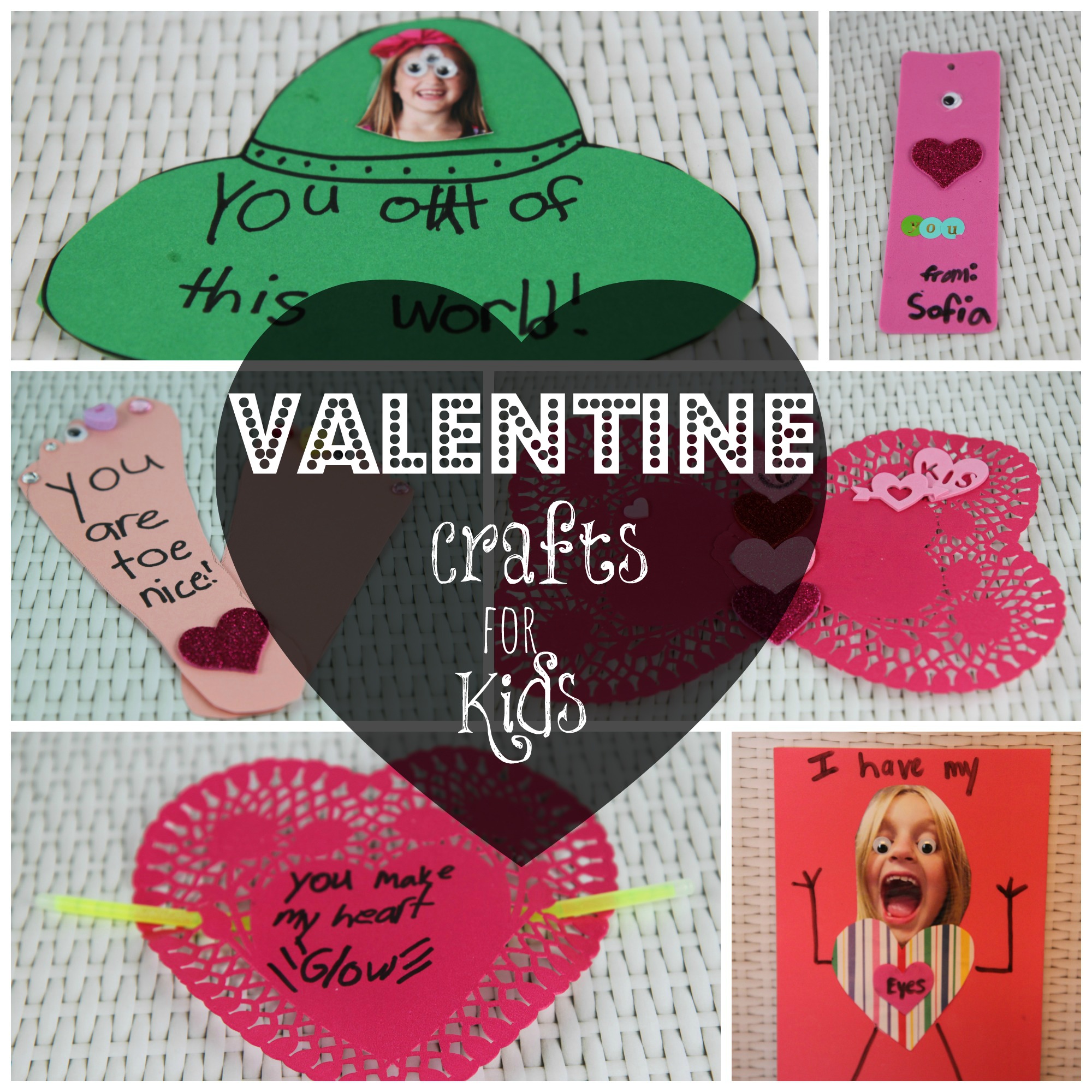 Sofia and I had a fun afternoon creating some easy and fun Valentine's crafts. All of these are inexpensive crafts that you can use with items you already have around the house or can be purchased at your local dollar store.
Dollar Store Valentine Bookmarks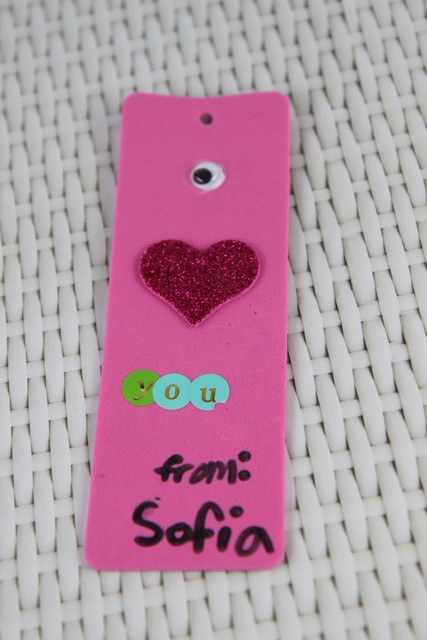 Googly eyes + a foam heart + a few scrapbook sticks = a cute bookmark. I picked up this pack of foam bookmarks for just a $1 at the dollar store but you could easily cut out card stock to make bookmarks too and decorate with any stickers you have on hand.
You Make My Heart "Glow" Valentine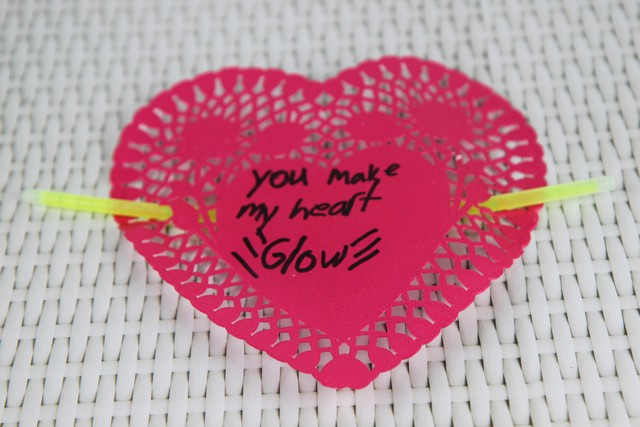 Doilies are inexpensive – a pack of 40 is just $1 and can make so many fun projects for Valentine's Day. This one she simply wrote "You Make My Heart Glow" with a sharpie. Insert a glow stick through the openings on the doilies.
"You're Toe Nice" Valentine Craft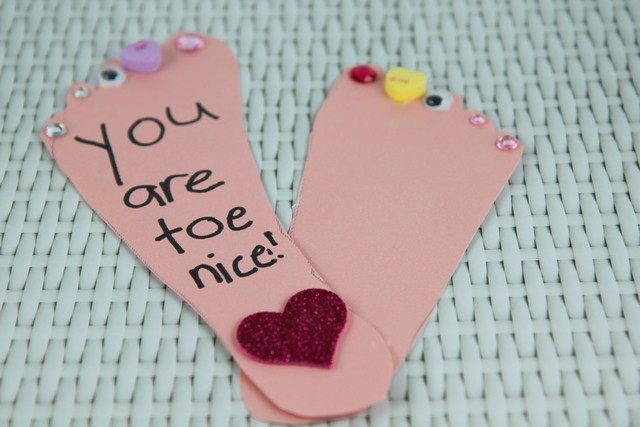 Trace your child's feet and cut them out. Glue on top of each other at an angle. Dress up the toes with jewel stickers. She decided to add a few Sweetheart candy (not edible with the glue) to her toes. Decorated with foam stickers. You can also pick up these sparkly foam stickers for Valentine's Day at the dollar store.
"You're Out of This World"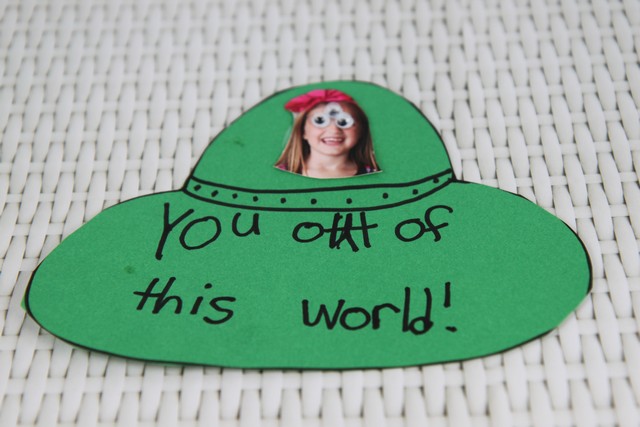 She kind of forgot the "are" part but she had fun making this! We printed out a picture of her and cut out the head, added some googly  eyes!
Butterfly Doilies Valentine
This Butterfly Valentine has two doilies glued together along with foam heart stickers as the butterfly body. Pipe cleaners for the antennae.
I have my "Crazy" eyes on you!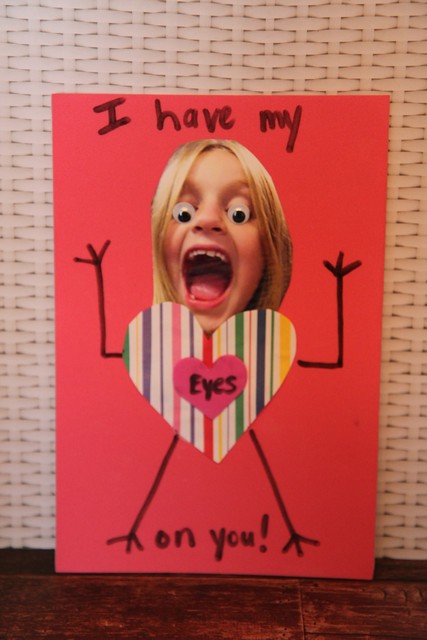 This one is hilarious and almost a little creepy! We printed out a funny picture of her at home and cut out the head again. Added a heart body, googly eyes for almost a crazy eyed look, and added stick legs and arms! Simple!
It doesn't take much to entertain the kids and allow them to create something fun and special. Do we really expect a magazine layout style for something that our children are making? Nope – especially if we want them to have the hands on fun.
Find more handmade Valentine's Day ideas!
Did you enjoy this post? Find more money saving tips here.