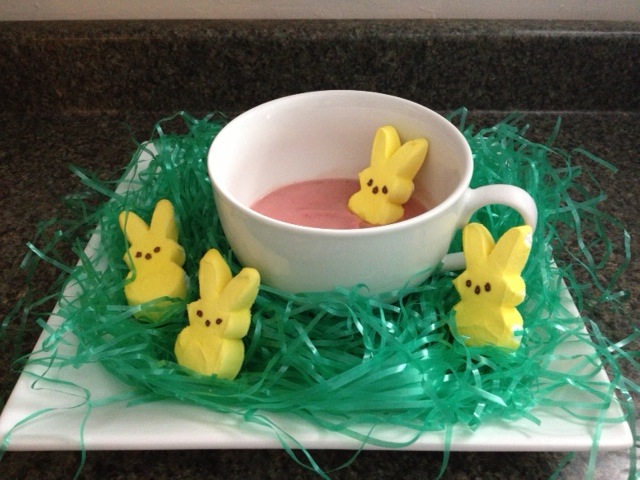 Are you tired of the humdrum daily routine? Sometimes, especially on holidays or other occasions, I like to bring back memories of a special trip or vacation I took by serving friends or family a unique recipe that I discovered while I was away. At Easter time, I like to remember a trip I once took to Las Vegas by preparing this Strawbunny Smoothie that I first had while staying at the Cosmopolitan, one of my favorite hotels in Las Vegas. Here is my own version below!
Strawbunny Smoothie

(makes about 2 cups)
Ingredients:
-1 ½ cups frozen strawberries
-4 teaspoons low-fat vanilla yogurt
-2 teaspoons peanut butter
-½ cup skim milk
Directions:
Place ingredients last four ingredients in blender. Add a few strawberries and puree the mixture. Continue adding a few strawberries at a time and blending until all strawberries have been pureed into the mixture. Pour into glasses and serve with Peeps® as garnishments. Makes about two cups.
These festive smoothies make great treats for Easter morning. I like to serve each smoothie in a glass on a plate filled with edible Easter grass and garnished with a few chocolate eggs. They go great with other brunch dishes like omelets or pancakes and sausage.
Another great thing about this recipe is that it can be adapted for those with food sensitivities or allergies. Reduce the amount of sugar by replacing the vanilla yogurt with unsweetened plain yogurt. If you prefer to use fresh strawberries, simply replace the skim milk with five or six ice cubes. I have also enjoyed making blue bunny smoothies by using blueberries instead of strawberries, and a favorite version for my young nieces is a wild bunny smoothie made with mixed berries.
Since Peeps® are now available for multiple holidays, you can make these festive treats for other occasions as well. Use heart-shaped Peeps® to garnish a Valentine's Day treat for your sweetie. Top the smoothies with ghost-shaped Peeps® for a haunted Halloween treat. However you choose to serve this delicious goody, I hope you and your family enjoy it as much as my family does. Who says you need to leave town to experience the joys of going on vacation?
About this Author: Kendra Thornton: Travel advocate, TV spokesperson, PR businesswoman, proud wife and mama of 3. I am a long time travel expert who has been packing my bags and traveling the world since I was 3 months old! I've found my utmost desire in life is right here in my own home. I have mixed my excitement for travel by bringing the taste of authentic cuisine to my own home with some of my unique recipes. Enjoy!
View the Recipe Index for a complete list of recipes. For the most recent vegetarian recipes posted on the blog, go here. To view all the recipes post on the blog, go here.