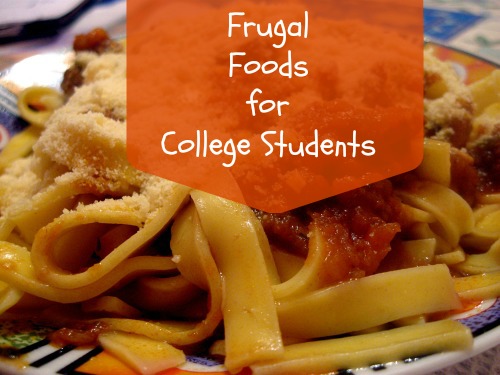 Frugal foods for a college student certainly always have to consist of cups of noodles and potato chips. There are lots of inventive foods that won't break the bank and still give you the energy and nutrition you need to power through your all-night study sessions. Here are just a few options of easy, affordable meals and snacks for college students.
Pasta Dishes
Pasta dishes are incredibly affordable. With the right ingredients, they can taste just like homemade. A box of noodles and a jar of marinara sauce can cost as little as $3. You'll get enough servings out of these two ingredients to create one dinner and have leftovers for at least two lunches during the week. Buy pre-cooked chicken or sausage to add extra texture and flavor. If you prefer vegetarian pasta, buy a green bell pepper to add a bit of crunch.
Bagels
Bagels aren't just for breakfast. You can use them to make toaster oven pizzas or use them instead of bread for a hearty sandwich. In the mornings, you can still pop them in the toaster and add a smear of cream cheese for a quick, tasty way to start the day.
Ramen
Yes, ramen is the hallmark of the college student's diet, but it doesn't have to be boring. Use cooked, drained ramen instead of rice in a quick stir fry. Your local grocery store will have frozen stir fry veggies you can microwave or you can find fresh bags of pre-packaged veggies in the produce department. Add pre-cooked steak or chicken and some seasoning for a quick, healthy meal.
Quesadillas
Quesadillas are quick and cheap. They can be made easily in the microwave, so they are perfect for students still living in the dorms. You'll need shredded cheese, tortillas, and any toppings you prefer. Simply arrange the layers of tortillas and chees, then place the creation in the microwave. Cook at 50 percent power until the cheese is melted. These are great for quick snacks while studying or for a simple meal.
Affordable Snacks
In college, snacking is almost an art form. Don't reach for chips and cookies that can make you feel sluggish while adding on the "freshman 15." Affordable, healthy snacks keep you alert and ready for whatever your professors have to dish out. Peanut butter sandwiches, apples, bananas, yogurt, oatmeal, trail mix, and carrot slices all give you nutrients and energy without packing on the pounds or taking a chunk out of your wallet.
Groceries are expensive. For college students, they can seem almost too expensive. Shopping for low-cost foods that are rich with nutrients can help you stay focused and avoid being hungry between classes. Be sure to arm yourself with a mini-fridge, microwave, toaster oven, and a hot plate so you can prepare delicious, cheap meals all from the comfort of your dorm room. Once you get in the habit of shopping for these frugal foods for a college student, you may find that your smart shopping habits stick with you for a lifetime.
Related Posts:
Did you enjoy this post? Find more money saving tips here.