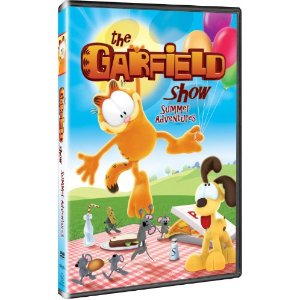 I grew up reading Garfield comics and watching the show on television so I was happy to know my kids love to watch Garfield just as much as I did. This is a classic and never goes out of style! Get into the summer adventures with Garfield Show: Summertime Adventures
 DVD, which was recently released on DVD on May 29. It is currently $11.97 on DVD at Amazon.
It's one adventure after another as Garfield and his pals look for a pot of gold at the end of a rainbow, try to save their favorite pizza place and morph into superheroes! Then hold on and get ready for one wild ride as they visit Cheese World, a cheese-lover's theme park! But will Jon rain on the summer fun when he enrolls Garfield in an extreme education program to become a "normal" cat? Not if Garfield can help it!
This is a show that is great for ALL ages! 
Read more reviews from Bargain Briana or at the Buzz by Bargain Briana.
This post is sponsored by X. Post was written 100% by me and was not edited by the sponsor. Read more on my Disclosure Policy.