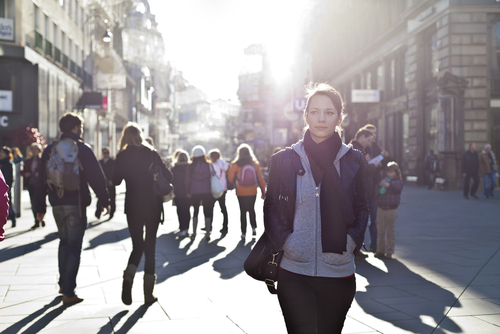 Surviving big-city life is no easy task. But everyone knows that if you can make it in one of the big cities like LA, Chicago or New York, you can make it anywhere. Millennials are often touted as being the lazy, "live at home with your parents way too long" generation, but many young entrepreneurs and creatives are flocking to big cities to make a name for themselves or their startup. So here is the millennial's guide to working smarter and not harder by saving money and living lean.
Living the Dream
Any smart entrepreneur will tell you that the best way to get ahead is to keep your overhead low. This means the best place to start is literally at home. Living alone may not be the most cost-effective option, but it's certainly one that will allow you to avoid roommate drama. If you like the idea of a roommate, find a great one online and find a place together, instead of looking for an open room in a house with an existing dynamic. You want to choose where you live based on price and convenience, not on whether you like the people that are already living there. Browse big-city apartments at ForRent.com.
Regardless of if you're set on living alone or looking for a roommate and the perfect place, search early and search often. First look into the neighborhood(s) you'd like to live in. Is it near your job? If you haven't landed a job yet, is it close to where you'd like to work? What does traffic look like during rush hour? How can you cut travel time and costs? Check into public transit which can often be much cheaper than owning a vehicle, especially in a large city.
Cook Your Heart Out
One of the best ways to socialize and explore your new city is to gobble up all the incredible cuisine on every corner of metro Los Angeles, Chicago and New York. It's also the easiest way to blow through your savings and disposable income and leave you broke, hungry and bored long before payday comes back around again.
Save boatloads by buying some cheap cookware and start bookmarking recipes on websites like Epicurious or The Food Network. Pinterest is also a great place to collect recipes and start learning about what you like to cook and what you like to eat! Going vegetarian just a few meals a week is also a great way to ward off sickness and keep food costs low. Pinterest even has carnivore and vegetarian shopping lists and meal plans that can help you reduce your chances of waste from food going bad.
Get Financially Fashionable
When you move to a big city, often the fashionable locals prove to be the biggest culture shock. Every day is the runway in a big city, and to be taken seriously, both personally and professionally you will probably need to invest in some new clothes.
But don't get sucked into the label game, looking like you belong in the big city isn't about buying pricey clothing. It's about functional, cool clothing that is as well made as it is timeless. One of the best parts about living in a big city is they have some of the best thrift-store shopping on the planet. You can discover up-to-date clothes that people donate every season, or you can dig up some epic vintage duds that everyone will be asking about.
Pick out a few style icons on Instagram or online and look at the proportions of their outfits, their color palette, and head to your local thrift shop. Once you get there, let the harsh lighting help you determine, very judiciously, what really flatters your specific body type. Remember, it's better to end up with two pieces of clothing that you really love and will wear season after season than 10 pieces of clothing you only half like.
Did you enjoy this post? Find more money saving tips here.