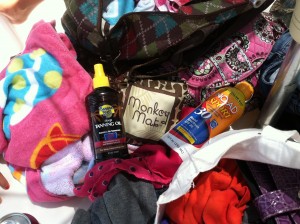 Thanks to Monkey Mat, I was able to try this product free for review.  My Monkey Mat arrived just in time for our trip to Gulf Shores, Alabama.  As you can see, it didn't take up much packing space at all and fit in well with our beach supplies. "The Monkey Mat™ is a clean surface you can take EVERYwhere" (Monkey Mat).  Features include:
Easy Buckle Strap
Machine Washable
Stylish Attached Storage Pouch & Zipper Closure
Loops for Grounding & Loops for Toy Attachments
Weighted Corners
Water Repellent
I like the fabric chosen by The Monkey Mat Company.  The stylish design is fresh and very cute.  I really like The Monkey Mat logo font because it's fun and the colors are bright!  I recommend this product for mothers of young children & babies as well as teens & adults.  The mat is great for grass picnics and extra beach towel space.  It would be perfect to use for watching fireworks, outdoor or indoor sport games (to entertain the little ones) or even for the babysitter's house so you know your little one with have a clean floor space on which to play.
Special Thanks to Cassie, Emma, and Hailee for volunteering to do a mini photo-shoot of how we used The Monkey Mat last week. Love you girlies :) Here are a few highlights: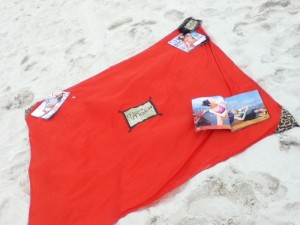 After careful review, product testing, and our mini photo-shoots I give this product a 4.99/5 star review.  I like the weighted corners on the mat, but wish there were mini plastic stakes inside the pouch to help ground the mat.  It was extra windy at the beach last week and we had troubles keeping the mat down.  We used magazines, towels, and our cooler to keep it from flying away.  There are plenty of hooks, however so we once we find some stakes we will be set!
This product is sold for $39.99 online.  Want to win your own Monkey Mat?  'Like' Monkey Mat on Facebook and enter for your chance to win there!
Photos were taken at Gulf Shores Surf & Racquet Club in Gulf Shores, Alabama.  Contact kilah@bargainbriana.com for more information about our favorite vacation spot and potential condo reservations.
FitFluential LLC compensated me for this Campaign. All opinions are my own. Rest assured, this Post was written by me and was not edited by the sponsor. Read more on my Disclosure Policy.