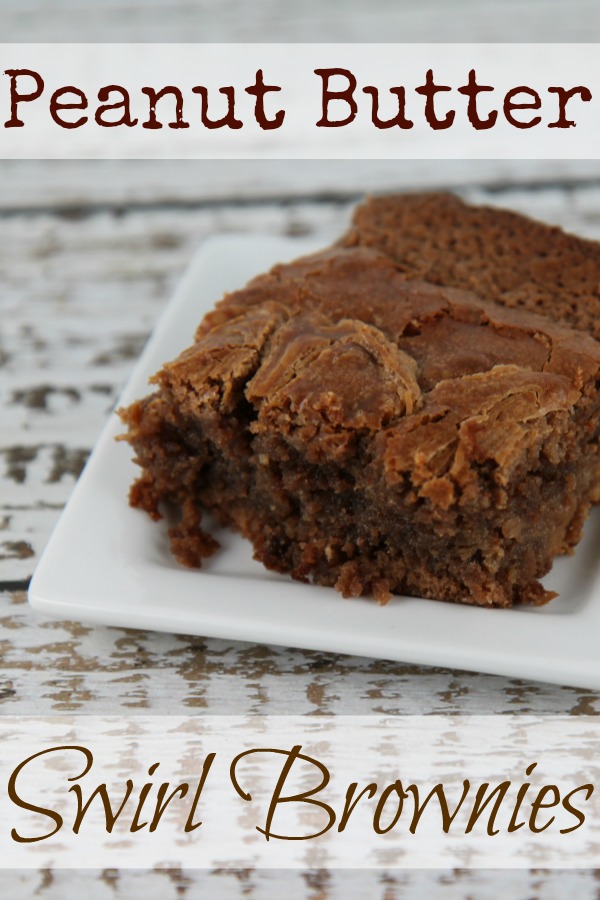 Think all brownies pretty much taste the same? If so, then you've never tried these amazing Peanut Butter Swirl Brownies. These deliciously rich and satisfying peanut butter desserts will take your snacking experience to a whole new level.
Made with common ingredients you could find in any well-stocked pantry, this peanut butter brownie recipe comes together in a way that is anything but common. You'll be pleasantly surprised at the first bite and nearly addicted by the third (or is that just me? :) )
One good thing about this peanut butter brownie recipe is that it really isn't any more complicated to make than those boring boxed mixes. It does require a few more minutes to measure and stir in the additional ingredients, but the extra time is negligible–especially compared to the excellent taste you'll get as a result.
Plus, Peanut Butter Swirl Brownies are a little healthier this way–since you'll know everything that goes into them. You can even customize the taste a little by adding more or less peanut butter or by adding in extra special ingredients like nuts or sprinkles.
Yes, there are a lot of great peanut butter desserts out there, but there's just something about the combination of peanut butter and chocolate that tastes just right. Whether you have a special event coming up where you need impress or simply have a chocolate craving and want nothing but the best, these Peanut Butter Swirl Brownies are sure to fit the bill.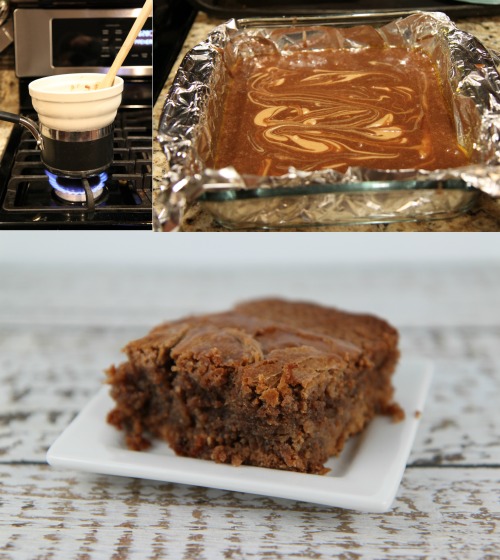 Print
Peanut Butter Swirl Brownies
---
Description
Peanut Butter Swirl Brownies Adapted from Martha Stewart Living New Classics Cookbook
---
For the Batter:

1

stick unsalted butter, cut into small pieces

2 ounces

unsweetened chocolate, coarsely chopped

4 ounces

unsweetened semisweet chocolate

2/3 cup

all purpose flour

1/2 teaspoon

baking powder

1/4 teaspoon

salt

3/4 cup

sugar

3

large eggs

2 teaspoons

pure vanilla extract
For Filling:

1/2

stick unsalted butter, melted

1/2 cup

confectioners' sugar

3/4 cup

creamy peanut butter

1/4 teaspoon

salt

1/2 teaspoon

pure vanilla extract
---
Instructions
Preheat oven to 325 degree. Line 8×8 baking pan with foil or parchment paper. Butter or spray lining with non stick cooking spray.
Put butter and chocolates in a bowl set over a pan of simmering water, stir until melted. Let cool slightly.
Whisk together the flour, baking powder, and salt and set aside. In a separate bow, whisk sugar into the chocolate mixture. Add eggs and vanilla and stir until smooth. Add flour mixture until well mixed.
For the Filling: Stir together all the ingredients unitl well mixed.
Pour 1/3 of batter into pan evenly. Spread the filling of about 1 tablespoon each about an inch apart on top of the batter. Pour remaining batter on top. Place remainder of filling on top.
With a butter knife, swirl the filling into the batter.
Bake for about 40 minutes.
---
Recipe Card powered by
View the Recipe Index for a complete list of recipes. For the most recent vegetarian recipes posted on the blog, go here. To view all the recipes post on the blog, go here.