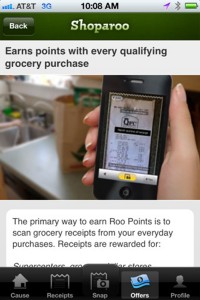 Have you heard of new iOS App, Shoparoo?  This app allows you to fundraise for your school without having to buy mums, bumper stickers, expensive candies, or any other product you may or may not need.  Simply shop any store, scan your receipt, and you'll be earning for your school.  Each receipt earns about $0.10.  The scanned receipts are used for market research to study shopping trends.  Most accredited schools are enrolled in this program and most stores (Target, Marsh, CVS, etc.) qualify.
Your school will earn a general fund check at the end of each school year with your total earnings.  Top earners for each school are featured on the app- making the competition visible.  This app is totally safe and free.  Learn more.
Learn how to save with Cash Back Sites and other Grocery Store Rewards Programs!