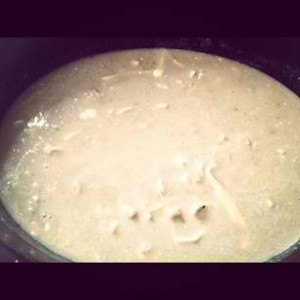 My mother in law has been making homemade noodles and sent some home with us so I wanted to use these up. This recipe is great because we had everything in our house already to make this. You can also add a green pepper or onion but since our household is picky, I skipped those.
Slow Cooker Beef & Noodles
I love anything I can dump into the slow cooker in the morning especially when our schedule is jammed pack of baseball and soccer!
Ingredients
1 lb beef roast or sirloin steak
1 Tablespoon Olive oil
1 clove garlic, minced
¼ cup soy sauce
2 Tablespoons Worchestershire sauce
5 cups of water
2 cans cream of mushroom
4 ounces cream cheese
16 ounces homestyle noodles
salt & pepper to taste
Instructions
Pour olive oil and garlic at the bottom of your slow cooker pan.
Add the beef, soy sauce, Worchestershire sauce, water, cream of mushroom to your slow cooker. Cook on low for 4-6 hours until meat is done.
Add cream cheese and noodles and cook for an additional 30 minutes on high or until noodles are cooked.
View the Recipe Index for a complete list of recipes. For the most recent vegetarian recipes posted on the blog, go here. To view all the recipes post on the blog, go here.