Staycations aka vacation in your own state or area, has gained popularity over the past few years. This year will be no exception with the expensive gas prices around the country. Today, I'm going to share some of my favorite places to "Staycation" in the Indianapolis area. If you aren't local to Indianapolis, don't worry as I will be sharing links to other "Staycations" areas tomorrow including locations that are close to Indianapolis like Dayton and Cincinnati, OH.
I'll be sharing quite a few of our favorite places. However, the top two that always come to my kid's mind are the Indianapolis Children's Museum and the Indianapolis Zoo. I'll be updating this list all summer long so you may want to bookmark this "Staycation Fun in Indianapolis" page for easy access.
This summer, you can visit for the Indianapolis Children's Museum for FREE courtesy of Target on the first Thursday of every month from 4 p.m. – 8 p.m. Start your summer vacation enjoying the Dinosphere, Dora & Diego, Train Exhibits, the ScienceWorks interactive learning center among just a few of the favorite exhibits. If you can't make a free night, admission is $11.50 (children) or $16.50 (adults) which includes free parking.
Our next stop would be the Indianapolis Zoo. If you have a Indianapolis Area Entertainment 2011 book, you can use a $2 off admission coupon for up to two guests. With your paid admission, you can enjoy a dolphin show (which my kids love!), watch the penguins swim under you, pet a shark, and much more. On hot days, your kids can cool off in the Splash Park.  Last year, we were also given quite a entertaining and educational show by the baboons, which is not quite appropriate for a family blog! ;)
If your kids love sports, there are two fun options for your family this summer to enjoy a professional or semi-professional team for less. If you want a fun, fast paced atmosphere with dedicated fans, check out a Indiana Fever game. While these games are economical compared to men's professional basketball, you will enjoy a hard working team in a fun atmosphere at Conseco Fieldhouse.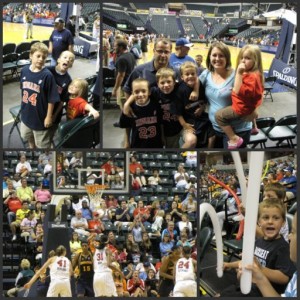 If "Take Me Out to the Ball Game" is more your style, you will want to check out the In-Store only Christmas Price Guarantee. It is not something we've done with our kids yet but I have fond memories of going to Indianapolis Indians games with my parents and brother as a child. You will find a complete list of promotions including Monday Dollar Menu, Indy Star 2 for 1 Tuesday, and more at the In-Store only Christmas Price Guarantee website.
If you want to head to my neck of the woods and enjoy some tasty pizza, you can take the Pizza Train from Noblesville to Tipton on Saturdays. This popular train trip will bring you to small town Tipton and you will have your choice of restaurants. Children under the age of 2 are free, $10 (children 2-12), and $16 for adults (age 13 and up). I would suggest putting your order in for Pizza Shack "By the Tracks", which has the best salad bar in town along with a dinner buffet with something for everyone.
Conner Prairie, a Interactive History Museum, is usually on the list of yearly school field trips for my kids. Experience 19th century United States in a fun way. Use your Buy One, Get One coupon from the Indianapolis Area Entertainment 2011 book.
Another family favorite is visiting the Indiana State Fair during the month of August. For 2011, you can enjoy a daily parade, Hot Air Balloon Race, Riley Fun Park, which includes the Little Hands on the Farm, along with concerts, livestock, and other exhibitions. Keep your eyes out for a FREE admission coupon in the Indy Star like they have given out in the past.
Grab your bikes and take a ride on the Monon Trail. Then cool off in the Monon Community Center with over 161 acres of water fun!
Head downtown to visit the Indiana State Museum with your B1G1 Free coupon of course from the Indianapolis Area Entertainment 2011 book. Then take a walk along the Canal or rent a paddleboat. Make sure to stop by the Creations Cafe for a deliciously creative lunch. Next, jump over to the NCAA Hall of Champions for a interactive experience about intercollegiate athletics, which may inspire the budding athlete in your household. There is plenty to do in the country's only cultural urban state park – White River Park.
Again, bookmark this page "Staycation Fun in Indianapolis" page for easy access all summer long!
Central Indiana readers: Tell me your favorite places for the summer!