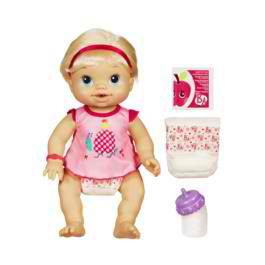 Today Target's Toy Deal of the Day is the Baby Alive doll for just $19.99 (Retail $29.99).  This includes FREE shipping.
Your WETS 'N WIGGLES doll is hungry and she needs you to feed her! Mix up her juice and watch her drink from her bottle – but don't forget to change her diaper. When she is happy and dry again, squeeze her baby bracelet to hear her giggle. She loves to kick and play, especially with you!
Set comes with doll, bottle, packet of juice mix, 2 diapers and dress.
Want to save loads of money this holiday season? Find the latest holiday deals I've posted about. You can also check out the Hot Holiday deals,  Giveaways, and my Holiday Gift Guide. These pages are being updated often.