I've been waiting for a good stain to do my review on Tide Coldwater laundry detergent. Surprisingly, it has never came. Yes, huge surprise. I guess we have more stains in the winter and fall when the kids are playing outside instead of mostly indoors. Since I didn't have anything significant to show you, I didn't want to stain something up just for the sake of testing it out! :)
We didn't have any particular horrible stains but we did have LOTS of stinky boy clothes!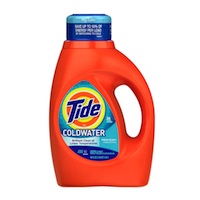 I normally crank up the temperature of the water when we do have something that requires a little extra work like stains or even just stinky, smelly clothes, which we have more than enough of.  The fact that this Tide Coldwater works extremely well to get the "stink" out in cold water is a selling point for me.  Not only does this save energy, it also helps prevent some clothing shrinkage from the hot water.
Switching to cold water washing is just one little step you can take towards conserving energy. In the process, you will also save money and get clothes that are clean and smell wonderful. 
I received compensation including a Tide Coldwater sample from Tide via  She Speaks to facilitate this review. Rest assured, this Post was written by me and was not edited by the sponsor. Read more on my Disclosure Policy.