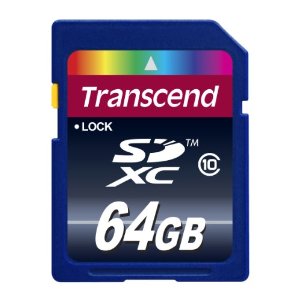 Today you can get up  50% off memory products from Transcend Information. They boost the performance of your camcorder, digital cameras, and other devices with the Transcend Information Class 10 SDHC memory cards. Many different choices and all up to 50% off!
Transcend 32GB Flash Memory Card – $17.99 (Retail $31.99)
Transcent 64 GB Flash Memory Card – $49.99 (Retail $79.99)
Transcend 128GB SATA – $74.99 (retail $99.99)
Transcend 256GB SATA – $154.99 (Retail $189.99)
Transcend 32GB USB Flash Drive – $13.99 (Retail $49.99)
Transcend 64GB USB Flash Drive – $29.99 (Retail $72.25)
Ships free with Amazon Prime or Super Saver Shipping. Find out how to get a FREE one month trial to Amazon Prime.