During the past few months, I've been sharing some of my favorite apps and ways to use the Motorola Xyboard with Verizon 4G service. I've been backing up my photos using Dropbox, utilizing the free Verizon online tutorials, reading books for free with my Kindle app, and using the the tablet as a universal remote with Dijit. I've even shared some of my youngest daughter's favorite Android apps.  I still have plenty more to share!
When I'm doing data entry or folding laundry, I like to keep my mind occupied so I don't get too bored. If there is not a television or a radio handy, it is nice to have the Motorola Xyboard Android tablet to watch some of my favorite shows. I've been reading of some people who are going completely to video streaming and ditching their cable or satellite bills. We are not quite ready to go there but I love having the Motorola Xyboard as an option.
Netflix is one of the my favorite apps to watch television shows or movies.  This is a monthly subscription service and well worth it. For example, I watched four seasons of a show that would have cost me over $30 a season to buy the DVDs for.  You can get a FREE one month subscription to Netflix here. For streaming only, it is just $7.99 a month.
Another option to watch streaming on a Android tablet is the Hulu app. This is a premium subscription to view on your device, which is very low compared to cable or satellite. The only frustrating thing about this app is that there are some shows that can only be viewed on your computer and not on mobile devices, which can be a bummer.
Having the 4G service makes it convenient to watch these apps wherever. This means if we are traveling far the kids can be entertained if needed since we don't have a DVD player in our vehicle anymore. It is also very nice for my youngest daughter when she has to tag along with me to one of her older brothers or sister's sporting events.
Video streaming can eat up your data plan pretty quickly so if you are at home or have access to another wireless network, you have the option of connecting to the wireless network instead of using your valuable data minutes.
Do you watch videos on your mobile device or tablet? What's your favorite app? Favorite show? Any tips? 
Check out the Amazon Android Daily Freebie too for more free Android apps.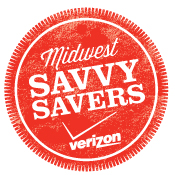 Disclosure: I am participating in the Verizon Wireless Midwest Savvy Savers program and I have been provided with a wireless device and six months of service in exchange for my honest opinions about the product. Learn more on how I disclose on my Disclosure Policy page.