If you have special dietary needs, VitaCost is a good place to shop. It is a good place to shop regardless but if you have specific dietary needs those items can cost so much more than regular items. VitaCostis becoming a low cost leader for these specialty items.
If you are new to VitaCost , you will receive a $10 off $10 purchase coupon. This week many of the Gluten Free items are an additional 15% off!
For example, Bob's Red Mill Gluten Free Flour is just $3.93 for a 22 oz package. You could buy a couple of those and something else and get it for FREE after the $10 coupon code. You will just pay shipping, which starts at $4.99.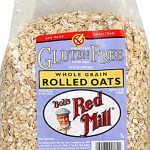 You will also find Bob's Red Mill Gluten Free Rolled Oats — 32 oz for just $4.64 (retail $7.79) at VitaCost.
I'll be posting a yummy recipe I made with one of my VitaCost deals with the Bob's Red Mill Black Bean Flour soon!
They have a wide variety of items, though from diapers to cleaning products, and personal care items. I'm completely amazed by the selection and prices at VitaCost. You will find some of those expensive organic, gluten free ingredients and items for a discount, which is hard to find at any other store.
These are just a couple of ideas. There are multiple ideas because they have snacks, diapers, vitamins, personal care, etc!
Get this deal with a few steps: 
Register for VitaCost.
Wait for your email with your gift code. You may need to wait a couple of days. Check your spam filter too!
Use your code to shop VitaCost.
Pay just $4.99 shipping!
What kind of deals are you finding on VitaCost?