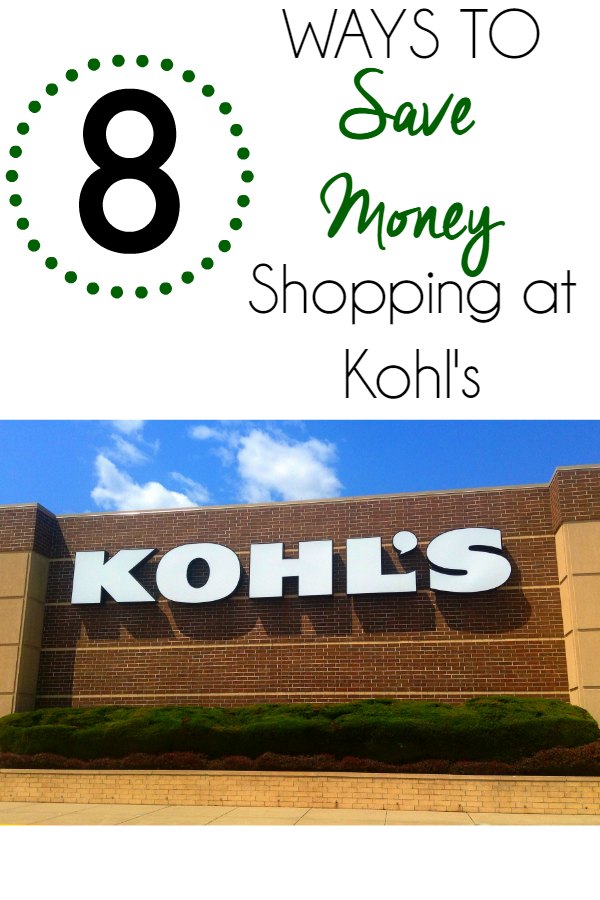 Do you love shopping at Kohl's? Many people do, as they offer a great selection of family clothing, home décor, toys, kitchen items, and more. If you are a Kohl's regular and want to know how to shop there for less, here are some helpful tips to get you started. Take a look at these 7 sure fire ways to save money at Kohl's so you can get the most bang for your buck.
1. Sign up for their email list:
Not only will you know about sales and specials when you sign up for the Kohl's email list, but you will get a $5 off coupon just for signing up. Plus, you will also get percentage off coupons emailed to you regularly!
2. Shop during Kohl's Cash promotions:
Kohl's cash is offered every few months, offering customers $10 in cash for every $50 they spend. During the week after Black Friday, you can earn as much as $15 per $50 spent. Save your Kohl's cash and redeem it during the designated shopping days.
3. Shop through cash back programs.
You can shop at Kohl's through Ebates. You will earn about 5% cash back when you do, and still enjoy all of the sale prices. When shopping online, try shopping through a cash back site to stretch your dollar further.
4. Take advantage of price adjustments.
Save your receipts because if you buy and item and it goes on sale, you can receive a price adjustment within two weeks of the markdown. This helps you really buy with confidence!
5. Sign-up for Kohl's text alerts.
Ask the cashier to sign you up or you can get signed up online. When you opt for mobile alerts you can get coupons sent directly to your smart phone. This is great for people who tend to forget to clip coupons.
6. Turn in your rebates.
Some Kohl's items have rebate offers that go with them. Pay attention when you buy an item to see if a rebate is with it. Then, be sure to follow all directions and submit your materials in a timely fashion. You can get big bucks back this way.
7. Use coupon codes.
When shopping online, check with Savings.com for Kohl's coupon codes. They often have coupon codes for as much as 20% off your order. Plus when you spend $50 or more, you typically get free shipping.
8. Sign up for Kohl's Yes 2 You Rewards.
No matter how you choose to pay, you can earn a $5 reward for every 100 points earned. Earn one point for every dollar spent. You can track all your rewards on the Kohl's app for smart devices.
When you keep these tips in mind, you can shop at Kohl's til you drop while saving cash at the same time. Give these tips a try and see how much you can save!
Did you enjoy this post? Find more money saving tips here.
Photo Credit: Mike Mozart