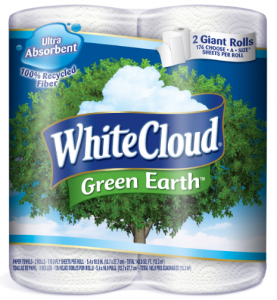 **I'm waiting to confirm with White Cloud before I announce the winner. Thanks for your patience!
If you have been around this blog for awhile, you know I'm a White Cloud Blogger. I'm always happy to talk TP wherever the conversation may lead and it goes some pretty dark places.
Earlier in the year, several bloggers and I did a Rate the Roll Challenge. White Cloud would send us unmarked rolls of toilet paper and we would decide which one was White Cloud or another brand. My biggest surprise was how soft the White Cloud Green Earth was for being a recycled product. I would have thought hard and scratchy. It was a good surprise.
White Cloud has brand new packaging and I'm loving the updated designs! Here comes the fun part for you….
First you will want to print out $1.25/1 White Cloud printable coupon, which is also available on the lower right hand side of the page. Then head to Walmart and send me a picture of you with the new White Cloud packaging for a chance to win $100 Walmart Gift Card.
Here's what to look out for: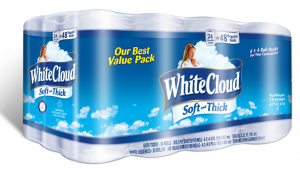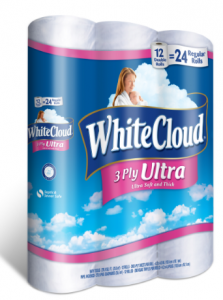 ---
Entry Methods
Upload a photo of you, husband, kid, or dog with the new White Cloud packaging. You will notice the fancy little upload button at the bottom of the comment form below. All you have to do is leave a comment on this post and upload your photo along with it! If you have any issues with uploading, please email me at bargainbriana@gmail.com for additional assistance.
Prize: $100 Walmart Gift Card
One winner will be chosen at random on July 1, 2010. So print your coupon and head over to Walmart!
Want to win more? Enter to win the rest of my current giveaways!
This giveaway was sponsored by White Cloud. Post was written 100% by me and was not edited by the sponsor. Read more on my Disclosure Policy.