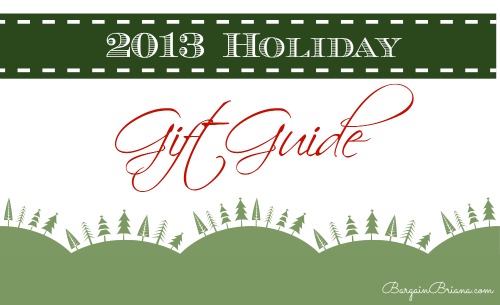 These are some of my favorite products and gift recommendation ideas. This list will be updated throughout the Holiday Season. In most cases, the link will take you to a full review of the product/service or it will take you directly to the shopping site.
We will be hosting many giveaways (click this link to see the most recent) throughout the holiday season as well as posting hot holiday deals on Black Friday as well as throughout the holiday season. Be sure to sign up for Ebates to earn cash back this holiday season. You can also earn a $10 gift card with your first $25 purchase – while still earning cash back from your favorite stores!
Would you like to see your brand or product featured in this year's Holiday Gift Guide? Please contact me at briana AT bargainbriana.com with Holiday Gift Guide as your subject for guidelines and specifications.

Gifts for Kids & Babies
---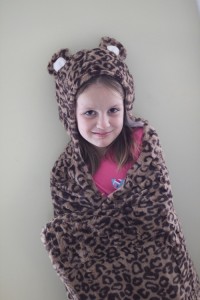 Anything from the Pottery Barn Kids site makes it on my holiday shopping list! The Animal Print Nursery Bath Wraps are so soft and adorable. My "baby" is using it as a blanket. She claimed it as soon as I opened the package. The inside has a cotton terry lining and the outside is plush polyester fur (so soft!) It is hooded for extra warmth. Comes in cheetah, zebra, or snow leopard. Babies are going nto love this hooded towel. Retails for $34.50 and can be personalized or monogrammed. I also just spied the fur stroller blankets – so chic and I'm guessing as soft as the bath wrap!
---
Cabbage Patch Kids Babies offer the ultimate nurturing play for young girls and boys. The dolls come in a variety of hair and eye colors, silky hair and removable fashions. Kids will love playing with their newly adopted Babies. Each Cabbage Patch Baby comes in his or her own pajamas or onesie oufit, matching blanket, and special CPK cabbage leaf, bottle, and pacifier. Plus, my favorite part when I was a kid – the authentic Cabbage Patch Kids birth certificate with a one of a kind name, birth date, and adoption papers. It was always a challenge to find a doll named "Briana" back in the 80s. I think they had to find a doll that matched my birth date instead!
---

Kinect Nat Geo TV. This is short for National Geographic. With this game you get to know wild animals, learn about the environment, and develop naturalist skills in 30 minute episodes. The visuals on the screen highlight interactive "sidetrack" activities for you to jump in and explore. Get the whole family involved to discover the natural world when your living room gets transformed into forests and transforms your kid into an animal. This game is educational AND fun and kept the three of my children's attention who enjoyed this game.
---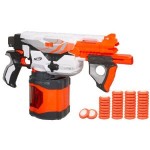 My boys always have fun playing Nerf. Now, does the rest of the house enjoy the havoc they create? Probably not! Nerf Vortex Pyragon Blaster is the first ever drum fed VORTEX blaster and holds the most discs – 40 included –  than any of the other VORTEX blasters before it. VORTEX disks work with other VORTEX blasters, which is nice to know if you have any other blasters in your stockpile. Kids can fire discs one at a time or hold the trigger down and use the pull back mechanism to send a steady stream in Slam-Fire mode. Sounds like a blast, right!
Retails at $39.99 and available at stores nationwide as well as Amazon.com.
---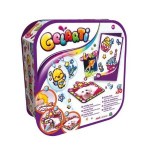 The Gelarti Activity Pack is going to be one of the hottest toys this holiday season especially since it's under $20. My daughter has already been begging for this toy. Includes eight sticker sheets, three paint pens, two glitter paint pens, a marbling tool, one swing tag, a birthday card, and an activity booklet. Using the specially formulated paint, kids just paint, peel, and place their Gelarti stickers, which can be removed and reused over and over again.
This is a great gift idea for those budding artists or those who like to get creative. My daughter loves activity sets so I know this will be a favorite for her. Recommended for ages 5 and up. Retails for $16.99.
---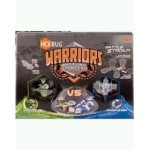 HEXBUGS Warriors Battle Stadium with Battling Robots is the ultimate large scale battleground for HEXBUG Warriors. Each Warrior can be outfitted with a combination of mechanical weapons and armor in order to outmaneuver opponents. Put your HEXBUG in training or match mode depending on your competition level. Training mode has unlimited health for scrimmages and training purposes. Match Mode is for competition . When the HEXBUG is in Match Mode the robot's shock sensor activates the damage indicator light which changes from green to yellow to red and blinks more rapidly as health decreases. After the battle, the robots can be reset.
Recommended for ages 6 and up. Available at major retailers and Amazon.com for around $29.99.
---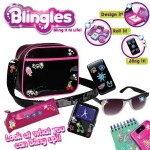 Blingles Accessory Pack is another favorite! Decorate and accessorize your world with Blingles. The accessory pack comes with 250 gems and all the tools to create your own Blingles designs. Kids can make up to eight designs using the pre-set patterns or design your own. The gem stickers adhere to any smooth surface and add sparkle to any accessory.
The Blingles Accessory Pack includes trinket box, photo frame, keyring, gift cards, storage tray, 250+ gems, gem pen, gem mat, glue roll, transfer slides, design templates, and instruction booklet. Sofia used the pre-designed Blingle sheets I received at a recent conference to decorate one of her school folders. It is super cute and fun. Recommended ages 6+. Retail Price $16.99.
---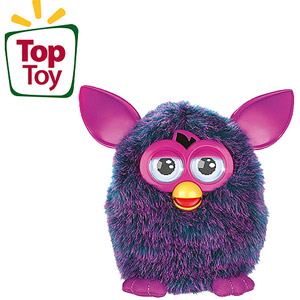 Like it or not, the Furby is going to be a hot holiday toy item this year! There are commercials up the wazoo and kids everywhere are talking about the new Furby.  Mark my words this will be THE toy you will be fighting to find this year.
I remember these were popular back right around the time my oldest daughter was born – 1998ish. Our Furby would mock her cry. Hopefully, that didn't damage her or anything! :) My younger brother eventually locked his Furby in the closet and we think the Furby may have went nutso from the lack of human interaction.
Anyway, the new ones are way more high tech and cool! Someone on your list is going to want one so buy it now before the holiday madness begins so you can sit back and relax. Hopefully, we will find some deals on Furby this holiday season but since it's so hot, I'm guessing there won't be many deals out there – it will be a "get it when you can" attitude. Read more about Furby on my Furby Review here.
---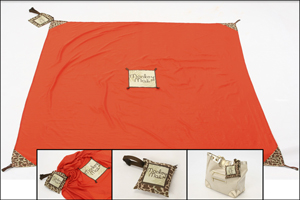 The Monkey Mat is a 'portable clean surface for you and your monkeys always on the go'. Created by soccer-mom entrepreneur, Christie Barany @monkeymatmama from Texas.  The monkey mat is perfect for on-the-go parents. this portable mat is stylish, unique, and is now available in four different colors (orange, blue, pink, and dark khaki). It's made of a sleek nylon, has corner loops for staking, and center loops for toy attachments, and packs away to a size not much larger than your smartphone! This thing is AWESOME for the beach!
---
Disney Fairies Secret of the Wings: The new JAKKS doll line and dress up products based on the Disney Fairies movie has many items for the little girls 4+ on your shopping list including these Disney Fairies Magical Light Up Wings, which glow in six different colors.
Check out the 9″ dolls for the Disney Fairies for more imaginative fairy fun as wells as the Friendship Forever 2 pack, which includes both Tink and Periwinkle.
---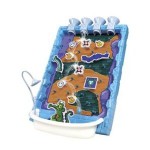 Bring the Where's My Water app to life with the new board game from Hasbro.  Based on the Disney award winning app, it features a loveable "Swampy the Alligator" character who is trying to get enough water to take a shower. Now you can bring this game based on the app into your own living room. Don't worry, there is no actual water involved! This game is recommended for ages 5 and up for 1-2 players. Retail price is $19.99.  Available at retailers nationwide like Amazon and HasbroToyShop.com.
---
My kids are starting to get a little old for Sesame Street but that didn't stop mom from having fun with the Sesame Street.  When at Blogher this year, I was able to play the Kinect Sesame Street TV game for myself. If your little ones love Sesame Street, they will love interacting with them on XBox as they get placed in the Sesame Street Experience – seeing themselves on the television with their favorite characters.
Also included in the Kinect Sesame Street TV game is access to hundreds of classic clips from the Sesame Street archive including exclusive content created just for the game.
---

Gifts for Teens
---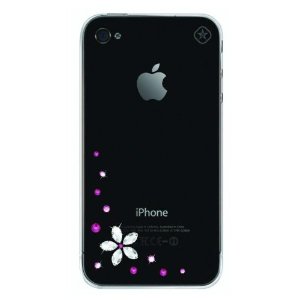 Bling My Thing is a premium low-profile polycarbonate case, which ensures protection without bulk, while sparkling for a glamorous mobile experience. Teens will love these glamorous cases! Available in a variety of colors and styles including Milky Way, Butterflies, and Flower Design.  Anti-scratch coating to prevent nicks and blemishes to phone. Available for iPhone 4/4S/5 and Samsung Galaxy S3 with prices starting at $29.99. Get 20% off when you shop at www.bling-my-thing.com through December 31, 2012. They are also available on Amazon.com.
---
---

Gifts for Him
---

Gifts for Her
---
---

Gifts for All
---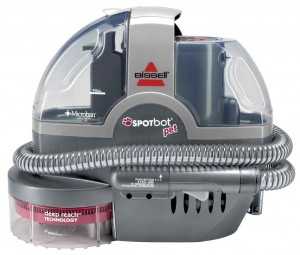 The Bissell Spot Bot Handsfree Spot and Stain Cleaner with Deep Reach Technology is a great gift for anyone with kids, pets, or high traffic. There are many things I love about this cleaner – first being it is compact and mostly because of it's automatic stain removing feature.
With kids or pets, you know there will be accidents. None of us want to scrub for hours to get a stain out. With the Bissell SpotBot, simply select the type of stain and WalkAway. Yes, just walk away! The preset cleaning cycles spray, brush, and remove both surface and tough set-in stains. This is all with the push of the button! Who loves that? Multi-taskers LOVE this feature!
For pets, Bissell SpotBot features a unique Deep Reach Technology, which delivers a solution further into the carpet where the deepest part of the stain resides for the most effective cleaning from the bottom up. Use Bissell Little Green formula for everyday stains or Bissell Pet Stain and Odor machine formula to remove odor causing bacteria from rugs and carpets. Add Bissell OxyGen2 to any of these formulas for a boost!
You can also use this for manual cleaning – but we have things to do – why would we use that? You may have hard to reach areas like corners, upholstery, stairs, or auto interiors. Did I say auto interiors? Yes, I did. I wish I would have had this compact little guy when I had the black bean spill of 2011.
Retails for $149.99 and available at retailers nationwide as well as Amazon.com.
---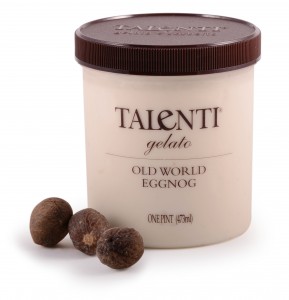 I love Talenti Gelato e Sorbetto!  This holiday season you can enjoy Talent's new Old World Egg-Nog Flavor for the holidays and not have a pang of guilt for indulging. Talenti has taken the traditional eggnog flavor and translated it into a rich and creamy gelato blend of Tahitian vanilla beans, fresh egg yolks and nutmeg.  Each pint is made with all-natural raw ingredients including:  Belgian Chocolate, fresh whole Tahitian vanilla beans from Papua New Guinea, select coconuts from the Philippines, and real Argentine dulce de leche to name a few.  These products are hormone-free milk and real cane sugar.  Sorbetto is the treat I enjoy the most (no dairy and it's 100% fat free!).  Find Talenti Products at a store near you. These would make a wonderful Christmas gift for anyone in your family to enjoy.   Also be on the look-out  for a special promotion happening over on the Talenti Facebook Page, Spread Talenti Cheer!,  this December.
---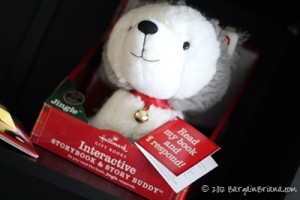 Hallmark has so many interactive greetings, storybooks, premium quality cards, and much more this holiday season. Our family loves the new newest interactive Storybooks and Story Buddies bring story time to life! The book features the sweetest (and most cuddly) husky pups you will ever meet – Jingle and their friend Bell. This dog is soooooooo soft! This is just one of the many unique gifts you will find at Hallmark.com and Hallmark stores nationwide.
---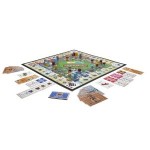 Cityville Monopoly Game is fun for the entire family! My kids love to get a good game of Monopoly going and this new edition combines the fun of Zynga's Cityville (online game/app) and Hasbro's classic Monopoly game to because a fast play way to build your dream city. Like the online game, grow your city to keep your citizen happy and compete to become the first mayor to build four skyscrapers to win. Use stackable buildings to build houses, community buildings, and businesses in the center of the board.Each Cityville Monopoly game includes a unique code for parents to redeem 85 CITY Cash of in game currency for use in Zynga's Cityville online game so you can continue the adventure. Available at retailers nationwide and online at Amazon.com for $24.99. Ages 8 and up.
---
Products may have been provided in order to facilitate this gift guide. Read more on my Disclosure Policy.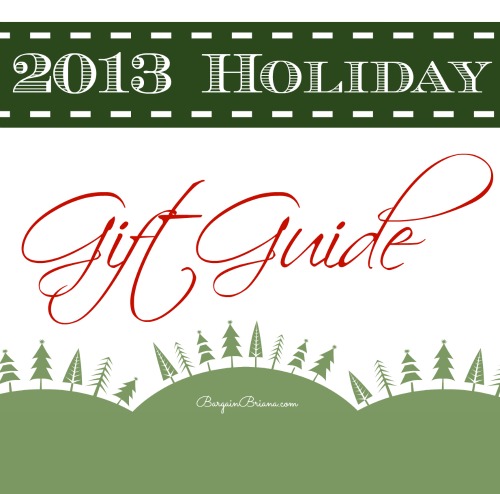 Want to save loads of money this holiday season? Find the latest holiday deals I've posted about. You can also check out the latest Hot Holiday deals and Giveaways, These pages are being updated often.