Today's Guest Post is from Erin Gifford, who blogs at Coupon Cravings. You can check out more of her great money-saving tips for Halloween in her free eBook: Halloween on a Budget, which features 25 tips to help you save on costumes, candy, decorations and more.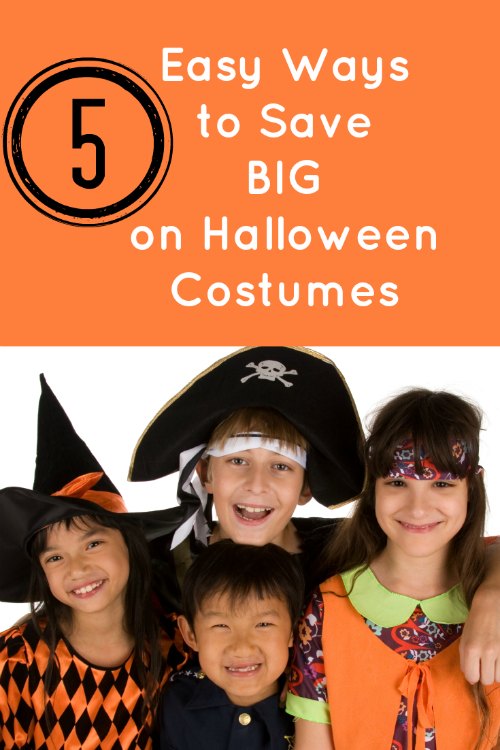 Halloween is just around the corner and I'm already starting to see dollar signs. I definitely over-spent last year (in particular, on one very over-priced Cupcake Fairy costume) and have vowed to rein in this year's spending. Costumes can be a primary expense, but they really don't need to be, so I jotted down five easy ways to get new-to-you (your kids!) costumes at a fraction of brand-new costume prices.
Trade Costumes: October 8 is National Costume Swap Day so why not swap costumes with friends or neighbors. If you belong to a mother's group or go to a monthly Bunco night, suggest that moms bring costumes for an informal swap before or after the program. Check out GreenHalloween.org for more tips on organizing a costume swap in your neighborhood.
Hop on eBay: There's a big selection on eBay, almost too big. A quick search turned up more than 400,000 items related to Halloween. If you have a specific costume in mind, start looking early, and don't forget to save your search and sign up to receive a daily email from eBay when items show up that match your search.
Try a ThredUP Costume Swap Box: Head to clothing swap site, ThredUP, and participate in their Halloween Costume Swap through 10/22. Last year, more than 2,000 costumes were swapped. Just head to the ThredUP website, click "Browse Boxes" at the top of the page to start searching for gently used costumes.
Dig Costumes Out of the Basement: If you're like me and have more than one child, you probably have a handful of old costumes in the basement ready to be reused. Take a few minutes digging through boxes of old clothes before you open your wallet for new costumes. All four of my kids have used the same 2T Bumblebee costume, and I heard no complaints.
Try Thrift Stores & Consignment Shops: Now is the time to start browsing local thrift and consignment stores for Halloween gear. Not only can you find gently-used costumes, but also party dresses and cowboy gear that may be perfect for a make-it-yourself costume. Head to the Goodwill website to check out costumes created from items found in their stores.
So, what are your best tips for saving money on Halloween costumes? Please leave a comment or feel free to drop me a line on my blog at www.couponcravings.com.