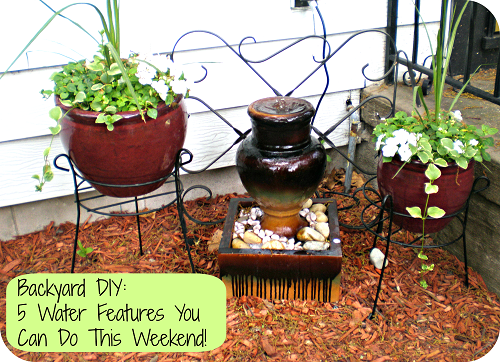 If you watch any of the backyard makeover shows out there, you will notice that they never do a yard makeover without including the ever popular water feature. Water features are a great way to add an extra element to your landscaping, as they offer soothing sounds and are pleasing to the eye. If you have wanted to include a water feature in your own landscaping but thought it was too difficult or pricey, think again!
You don't need to be a professional landscaper to install a fun and even frugal water feature in your own yard. In fact, it can be a simple project you can knock out over the course of a weekend. Don't believe me? Take a look below at 5 water feature you can try this weekend!
5 Water Features You Can Try This Weekend:

Wouldn't you love to relax in your yard next to the sound of trickling waters? It is totally possible. Take a peek!
1. The simple pond.
You can find pond shells that are as small as 3×3 feet and as shallow as 1-2 feet at your local home improvement store. These make the perfect little oasis! To install, pick a spot in your yard and call 411 on your phone to make sure it is safe to dig in that location. Dig a hole to size and insert the shell. Fill in any gaps with sand. Using your garden hose fill the shell. Then, take large stones or pavers and make a border around the edge to cover the shell from site. Once you do this you can decorate as you wish, adding floating plants, sculptures, and flowers! As long as you are not adding fish (which is not recommended) you don't need to worry about a filter. Just clean as needed by hand.
You can find an example of a 20 gallon shell at Amazon for under $40.00!

2. The bird bath fountain.
This feature looks amazing tucked away in a flower bed or in the center of your garden. For this project, you need a simple pedestal bird bath and small, solar fountain. Simply place your bird bath where you wish and fill it with water. Your solar fountain will then be placed in the center of the basin. During the day it will soak up sun power and trigger the water feature. The end result is a lovely little fountain happening in the center of your birdbath. The critters will love it and you will love the soft sounds.
You can find many examples of solar fountains at Amazon for under $40.00.

3. Easy peasy electrical fountains.
There are many varieties of small and mid size electrical fountains that can still give you all of the benefits of a water feature at a great price. The best part about these is you just plug them in and go! You may need to clean them occasionally and add water, but for the most part they are very low maintenance and use very little electricity. To install, find a stable place to set your fountain. You can set one on your concrete patio or put a few pavers down on your lawn and place it on top. Be sure you are situated close to an outdoor outlet or run an extension cord. Then just fill with water, plug in, and go!
Amazon has a variety of fountains for under $75.00 that would be perfect if you are looking at this option for your yard.

4. Easy Upcycle: Water fountain kits.
Do you have a favorite urn or pot you love? Did you stumble across an old watering can that would make a cool fountain? You can purchase DIY water fountain kits that turn any item into a fountain. All you need is the kit and a few simple tools. You will drill a hole in the bottom of your object and wire up the fountain using the supplies in your kit. Your kit will also include a pump (electric) to keep water flowing and your feature working well. So be creative, find an old pot, decorative piece, watering can, sculpture, or other item that would make a cool fountain and get crafting!
You can find water fountain kits at your local home improvement and craft store.
5. Galvanized Barrel Pond.
If you live in an apartment or perhaps on property that you don't want to dig on, you can always do a galvanized barrel pond. Find a large metal barrel (check local thrift stores, garage sales, or home improvement stores) and fill with water. You can add simple plants and stones for varying depths, and even add a solar powered fountain if you wish. These can be places anywhere and are perfect for small spaces! These can get as fancy as you wish and pack a lot of punch in a small, simple package.
As you can see, a great water feature doesn't need to involve a landscaping team. You can whip up a sweet and functional pond or fountain over the course of a weekend, and you will be able to enjoy it all summer! So decide which one of these works for you, gather your supplies, and get creative!