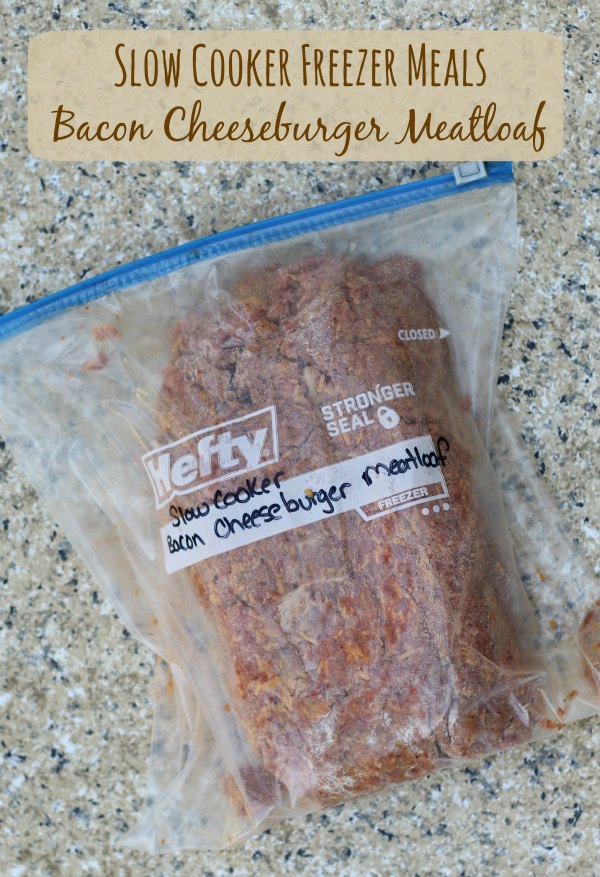 This is one of my family's favorite meals because the flavors are so good and it is a filling comfort food that puts a smile on all our faces. While this recipe is for our Slow cooker Freezer series – whether you make it to cook right away or make up a batch (or two) for the freezer it comes out delicious! Have leftovers? Meatloaf sandwiches are so tasty the next day! Add potatoes or rice, and a healthy vegetable to balance out your meal.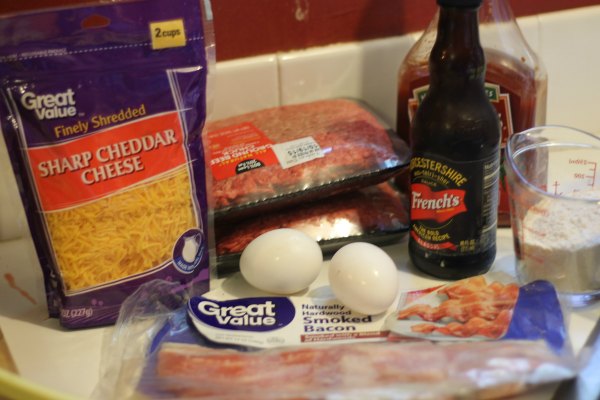 Bacon Cheeseburger Meatloaf | Freezer to Slow Cooker Meals
Ingredients
2 lbs. ground beef
8 pieces pre cooked bacon, chopped small
1 ½ cups shredded cheddar cheese
3/4 cup bread crumbs
½ cup ketchup
1 T. worcestershire
2 garlic cloves, crushed
2 tsp. onion flakes
1 tsp.salt
1 tsp.pepper
2 large eggs
Instructions
Freezer Prep:
Label gallon freezer bag with contents, date, and cooking instructions before filling.
Prepare bacon- I cook mine by covering a baking sheet in foil, laying bacon out in a single layer and placing in oven, turn oven to 400° once bacon is in an bake for 20 minutes until crisp. Never tried baking it in the oven? Once you do you will never want to cook it any other way.
Allow bacon to cool completely then chop.
In a large bowl combine all ingredients with your hands until thoroughly mixed.
Place inside gallon freezer bag, form a loaf once in bag.
Press air from bag but do not smash down meatloaf.
When placing in freezer do not set anything on top until frozen solid.
Cooking:
Thaw contents of bag completely.
For easiest cleanup insert a slow cooker liner bag or simply coat with nonstick spray.
Place meatloaf in slow cooker, brush on additional ¼ cup of ketchup.
In the last 20 minutes add additional ½ cup of cheese if desired.
Cook on low for about 6 hours.
Remove from slow cooker and allow to set for 10-15 minutes before slice.
View the Recipe Index for a complete list of recipes. For the most recent vegetarian recipes posted on the blog, go here. To view all the recipes post on the blog, go here.