My good blogging friend, Jen who writes Balancing Beauty & Bedlam, always seems to be finding great garage sale finds. I remember the first time I met her, I complimented her beautiful red dress, and she proceeded to tell me it was a name brand garage sale find, which I would have never guessed otherwise.
I've never had the patience or talent for scouting out these deals at garage sales.  Apparently, my husband has a great eye for the garage sale finds, though! Some day I'll tell you about the a few of his other deals he has found us in the past!
He just happened to drive by a garage sale and saw this adorable pink Barbie bike. Knowing that our youngest daughter doesn't have a bike of her own he decided to stop. He thought, surely, it would be priced at $40.
Nope, just $20! For a bike that brand new probably would have cost $80 – $100. This previously owned bike looks practically brand new.
He snatched it right up and was Sofia's hero when he got home. She is still getting the hang of pedaling.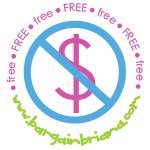 Yes, I know she needs a helmet! We have one but we were so excited for her to try it out didn't dig it out!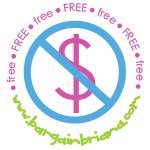 In true Bargain fashion, we were able to snatch up a few FREE bike helmets at a bike safety booth sponsored by our local Cargill at a recent local event! They didn't have any small enough for Sofia's head but the boys were able to pick up helmets.
They got all the answers right on the bike safety quiz, now actually using those in real life….
What's your favorite garage sale find?