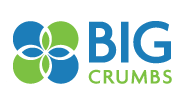 Do you shop online? Are you using a cash back site to earn cash back on your online purchases? You could be saving money each time you shop with a cash back site such as Big Crumbs.
Why is Big Crumbs different?

You receive cash back on your purchases and earn commission when your friends shop through BigCrumbs
Earn cash back from shopping at eBay!
Members get paid on the 15th of the month with a minimum of $5. However, I'm signed up to get paid via Paypal and I have received payments for less than $5 on the months when I don't do much shopping!
Request your earnings be put on a Prepaid Master Card with no fees!
Earn cash back when you make Ebay purchases.
How to start earning?
All you need to do is sign up for a Big Crumbs account and then use the Big Crumbs shopping links for your favorite stores like Kohls (3.2%), Old Navy (up to 3.2%), Target (up to 5.6%).
What's your favorite online store to shop? How much cash back could you be earning?