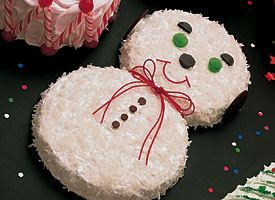 With the average price of a store bought cake around $20, you can quickly eat up your birthday party budget. For just a few dollars, you can make a cake that tastes fresher and is from the heart. Growing up, I loved it when my mom took the time to make me a special cake. I will admit, I've not done this as often for my own children. I'm not that handy in the kitchen but I'm trying to learn.
When I was contacted about the Birthday Planning section on BettyCrocker.com, I was excited browsing around the site. There are so many creative party ideas like a Dinosaur Party, Rubber Ducky Party, and a cute Winter Party, which even non-creative cake making people like me can make. Each Party Theme includes ideas to coordinate with your theme. For example, the Green Dinosaur theme suggests making "Roaring Tyrannosaurus 'Wiches", cutting out dinosaur footprints for invitations, making a lifesize dinosaur out of cardboard for decorations, and staging a "fossil" hunt for a game.  It is like your personal party planner – all for free. Many of the cake recipes have video tutorials to help you on your cake making journey.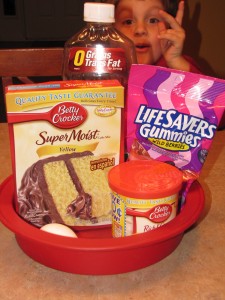 So my mission was to make the Purse Cake. It has a nice video tutorial along with it. However, I did not see this until after I made my cake. Oops! It is about 2-3 minutes long and shows exactly how to make this cake. It gives some helpful hints not included in the actual recipe – like putting a "crumb" layer of frosting on the cake, freezing it for an hour, and then putting the final layer of frosting on the cake. I highly recommend watching the tutorials before attempting your cake.
I had almost everything for this cake already on hand. Basic ingredients like Cake Mix, (1) Egg, oil, water, frosting, and candy to accessorize. (Of course, one of the kiddos wanted in the picture!)
Let's run down the costs:
$1 Betty Crocker Cake Mix (These go on sale for $1 frequently but there aren't usually many coupons for the cake mix.)
40¢ Betty Crocker Frosting (This is one of the lowest prices I've found with coupons. These do go on sale for $1 frequently)
$2 ? Candy Decorations (this is a estimate – BettyCrocker.com recommends buying individual candy from the candy bins to save on candy costs! Great idea as it would be much more expensive to buy a whole bag of candy just to use a few pieces to decorate.)

10¢ 1 Egg
10¢ 3/4 c. Oil
Total: $3.60
Savings of at least $16.40 for making this cake instead of purchasing a store bought cake.
What I'm getting ready to show you is only my second homemade decorated cake, so judge accordingly. I'm not Martha Stewart – just a mom with limited baking skills who was never involved in 4-H. I also didn't have any green licorice, which I would have purchased if I was really making this for a party. I used whatever candy we had on hand to decorate. This was just a test run and I know the next time I will have a better idea how to do it.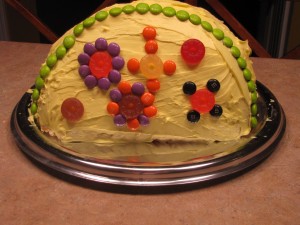 Don't miss out on any deals: Subscribe to my free newsletter via email or RSS.