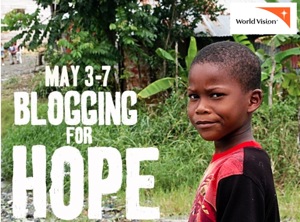 I'll be honest, the World Vision Trip has just kind of snuck up on me. The realization is just now starting to sink in that Hannah and I will be in the Dominican Republic in just a few days. I'm nervous and excited.
Nervous on how I'm going to share this experience with you because this blog isn't really about my feelings and personal experience. Am I ready to open up that much in this public space? Nervous about how I will be affected by the trip. Will it change me? Will I just go about my normal life? Does what I do even make a difference?  Right now, I just don't know.
Excited because I've sponsored a child through World Vision for many years after watching my own mom sponsor a child while I was growing up. I'm excited because I do get to meet one of our sponsored children, Angela who is six years old. I am a little sad we will not be able to meet our other child we sponsor from the Dominican Republic, Luis (11), who shares my love of beans!
I feel so blessed to be asked to be part of this group. To be able to bring awareness to a cause I truly believe in is a highlight of my blogging "career."
So what can you expect next week? I have plenty of deals/giveaways/bargain posts that will be scheduled and posted throughout the week. I will have a sticky post at the top of my blog which will have the latest World Vision Trip posts for easy access to those posts.
Please bookmark this tag link to follow all my World Vision Dominican Republic posts: https://bargainbriana.com/tag/world-vision/. Follow the group on  Twitter – we will be using the hashtag #WVinDR. You will also want to read about our trip from these fabulous bloggers, who will be sharing their own perspective about the trip!
Do you sponsor a child? If you do, I would love to hear about the child you sponsor.