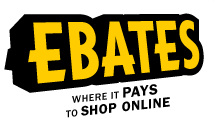 Of all the cash back reward sites, Ebates is the one I've used the longest. I've been a member since 2001. So you could say I was a early adopter. I'm still constantly surprised at the people who do not know about Ebates or don't use it!
What is Ebates?
Ebates, founded in 1998,  was the pioneer of Cash Back Shopping.  Basically, you shop through their links and you will earn cash back for your purchases. You must shop through their links to earn your cash back and some stores exclude you from using coupon codes not listed on the Ebates site.
You may ask how they are able to do this?  They can because they make money off the links as well as other sites. However, they are choosing to share the revenues with their members.
Sign up
If you haven't signed up for Ebates, you will want to do so today. Ebates is also offering a $5 bonus when you sign up and make $20 or more in purchases in the first 90 days.
Earn Cash Back
Once you have signed up for Ebates, you will go to their site and shop through their links. Once you click on a link, it will create a "tracking ticket." Once you complete your shopping, you will get a certain amount credited to your account. You can see what the percent back is for each merchant before you shop.
It can take up to 48 hours for a purchase to be credited to your account. You can check and make sure your click tracked by going to My Account and viewing your tracking tickets.
Other Ways to Save
Ebates offers coupon codes and discount links for their merchants. You can rest assured you will find a wide variety of discounts for the over 1,200 merchants, even EBAY! Ebates also offers other opportunities to save like Daily Doublers, featured stoers, and featured coupons!
Get Paid
Ebates sends out cash back payments for purchases quarterly. If you've earned less than $5.01 cash back, they will carry over your money to the next check. Your Bonus Rewards do not count toward the $5.01 minimum.
You can choose to receive your payment via Paypal or you can donate your cash back to your favorite charity. Just this week, I received my holiday shopping cash back!
| | |
| --- | --- |
| Purchases Posted Between | Big Fat Check Sent |
| Jan 1-Mar 31 | May 15 |
| Apr 1-June 30 | Aug 15 |
| July 1-Sept 30 | Nov 15 |
| Oct 1-Dec 31 | Feb 15 |
There are many cash back programs to choose from, I usually suggest clicking around to see which one offers the highest reward but sometimes I just stick to the company I have trusted for over 9 years!