If you are like me, you don't need any more "stuff." I have put together a list of clutter-free gift ideas that are great for the holidays, birthdays, anniversaries, any of the special days.
This post contains affiliate links. All thoughts and opinions are my own.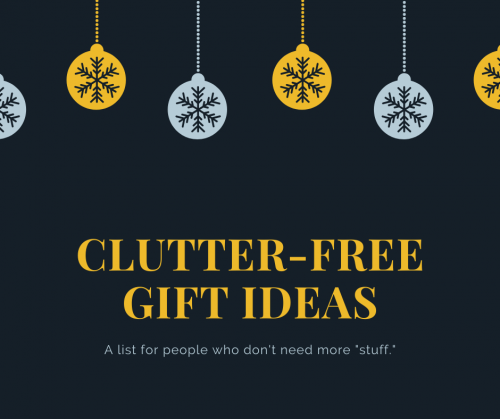 Consumables
Everyone loves to EAT, right? A gift basket of favorite snacks is always a hit. I always try to add a tin of cashews for my dad as he is SUPER hard to buy for.
Fruit baskets (I LOVE my Harry & David's Pears!)
Homemade cookies
Homemade breads
Restaurant gift cards
Coffee gift cards
Cashews and other nuts
Lottery tickets (why not?!)
Memories
Memory books and photo gifts are always popular ideas. They do take some pre-planning on your part, though. In the past, I have made photo calendars for the grandparents that are super fun and easy to make especially when you use a website like Shutterfly.com.
Photobooks
Family Cookbook (I treasure the ones my family has made in the past)
Scrapbook
Grandparents book
Photo Calendar
Other customized photo gifts like notepads, post-it notes, pens, etc.
Experiences
Experiences will be remembered forever, where things will be forgotten. Groupon usually offers great discounts on local places.
Concert tickets
Sporting Events
Zip Line
Axe Throwing
Candle-making
DIY workshops like Board & Brush
Movie gift cards
Theater tickets
Golf
Memberships
Memberships are a gift that can last the entire year. I love this an alternative to toys for kids as well.
Children's Museums
Zoo
Theme Parks
Any "of the Month" Clubs
Jump zones
Mini-golf
Classes
For people or kids who love to continue learning, these are some ideas for them!
Cooking
Dance
Swimming
Music
Pottery
Painting
Art
DIY
Time
Time saving ideas are often great gifts. If you are on a budget, making a coupon booklet with some of these time saving ideas would be wonderful. I am still holding onto a coupon booklet with a free foot massage from one of my kiddos. Seriously, tho, what tired mom wouldn't love an evening or afternoon of free babysitting from a friend.
Babysitter
House cleaner
Dinner Out
Professional organizer
Car Wash
Massage
Mani/pedi
What other clutter-free gift ideas have you given or received in the past? What are YOUR favorites?