What if you went to college this year and didn't feel stressed? Trust me, I get it. College can be super stressful. I think this year, it's time you conquer college stress with Amazon Prime Student.

What is Amazon Prime Student?
In case you were wondering what Amazon Prime Student is, it is awesome. You can try it out for 6 months at no cost. You can also get free two-day shipping and get thousands of shows and videos for free.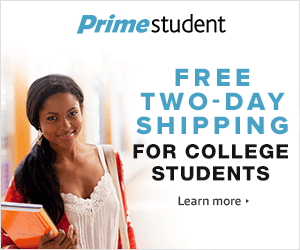 Stock Up on Everything You Need
The good news about being a college student and using Amazon Prime Student is that you can stock up on everything you need. Think about it, need school supplies? You can order it from Amazon. Need dorm room supplies? You can order it from Amazon. The possibilities are endless.
You Don't Have to Leave Your House
Perhaps one of the best parts of the Internet and Amazon Prime Student is that you don't have to leave your house. You can order everything you need right from your dorm room. College is stressful enough with classes, homework, social life, and perhaps even working. Make life a lot easier on yourself.
Relax with Amazon Prime Student
One of the best reasons to sign up for a six-month trial of Amazon Prime Student is you have access to endless movies and TV shows. I remember when I was in college, relaxing was super important. Even if it's only to take your mind off of school for an hour or so. After your six-month trial, it's just $49 a year—half the price of a regular Amazon Prime membership—and includes over a million songs with Prime Music and one free pre-released book a month with Kindle First.
Save Money on Your Text Books
Here comes the real stress-free part of using Amazon Prime Student, you can skip the line and the huge fees for college textbooks. Purchase your books through Amazon Prime Student and have the books shipped right to your door.
Man, college is looking a lot less stressful for you already. Sign up for Amazon Prime Student and reap all of these awesome benefits.
Moms: shop Amazon for your college student's back to school needs! You can "be there" with the help of Amazon Prime Student.
I was selected for this opportunity as a member of Clever Girls and the content and opinions expressed here are all my own.