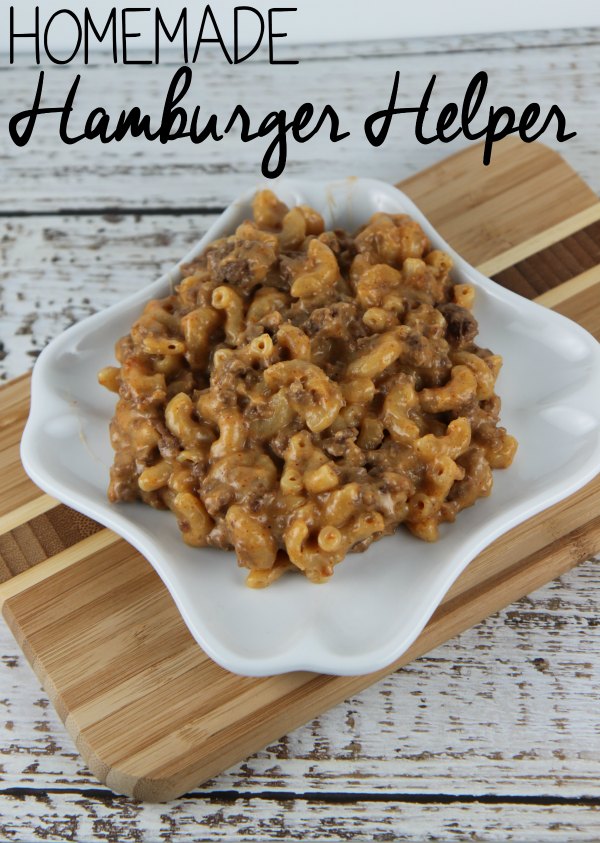 Dinner at our house can be an absolute nightmare. Picky eaters are everywhere. Some of the basic rules are no chunky tomatoes, absolutely no onions, and nothing green can be seen. These are the basic tenets I must follow if I want a peaceful dinner that is actually enjoyed and eaten by the family.
They are picky eaters. I take responsibility for placating and coddling the kid's special requests over the years. Originally I thought it would make it easier but in the long run, it just makes it more difficult as some nights I feel like a short order cook.  This gets very frustrating as I have pin boards of so many recipes I wanted to inflict upon my family try. One of my goals for this year is to find (or force upon – ha) meals that the family will all enjoy.
While, I haven't purchased an actual Hamburger Helper boxed meal in years, I knew this was something that my kids would love. Knowing that there are so many ingredients in a boxed meal that I can't pronounce, I knew I could make this healthier and cheaper at home. I came across this fantastic Copycat Hamburger Helper Cheeseburger Macaroni recipe. Made with spices you probably already have in your pantry and with real cheese, I knew this was a healthier alternative that my family would love. Best of all, it was very easy to make.
Since one of the basic rules in the house, is no onions, I left out diced onions in this recipe. You can half a diced onion to  your recipe when you brown your hamburger. For cheese, I use half sharp cheddar cheese and half regular cheddar cheese. Sharp cheddar has a little bit of a stronger flavor that I think really adds to this recipe. To give you an idea about how serving sizes, in the future, I will double this recipe for family as it was just enough for two teenage boys (my nephew was over) and two elementary aged kids. There was just a little bit of leftovers for the husband. Since the kids really enjoyed this recipe, I know they would eat leftovers the next day, as an after school snack or even take it in their lunch to warm up so doubling it up would be worth the effort.
This easy to make copycat Hamburger Helper recipe was an absolute success in our household! To save time, I can make up my own helper packets with the spices and pasta and store in the pantry or just with the spices.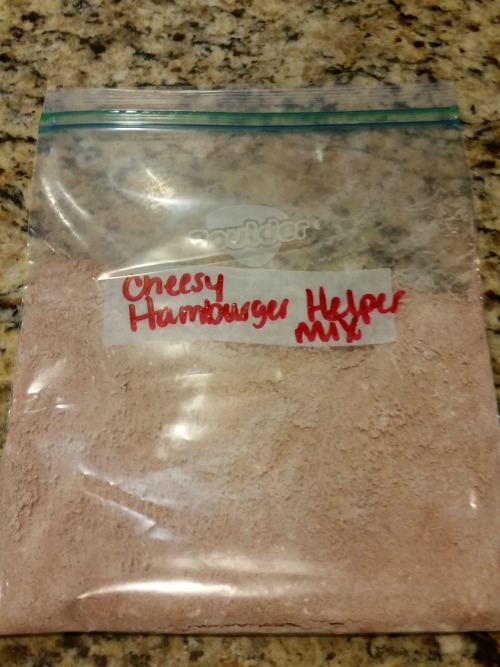 Print
Copycat Hamburger Helper Cheeseburger Macaroni
---
1

lb ground beef

1 1/2 cup

hot water

2 1/2 cup

milk

2 cups

elbow macaroni, uncooked

6

–

8

ounce cheddar cheese, shredded
Spice Mix:

2 Tablespoon

cornstarch

3 teaspoon

paprika

1 1/2 teaspoon

onion powder

1 1/2 teaspoon

garlic powder

1 1/2 teaspoon

kosher salt

1 1/2 teaspoon

sugar
(pepper optional)
---
Instructions
Combine all ingredients for the spice mix. Set aside. Store in storage bags for easy make ahead meals.
Brown ground beef. Drain any fat from pan. Add water, milk, pasta, and spice mix. Bring to a boil. Cover, reduce heat, and simmer 10 minutes or until pasta is tender.
Remove from heat and add shredded cheese.
Stir until combined.
---
Recipe Card powered by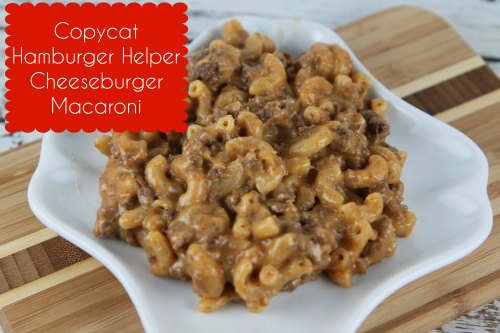 View the Recipe Index for a complete list of recipes. For the most recent vegetarian recipes posted on the blog, go here. To view all the recipes post on the blog, go here.