How do I plan my trips to CVS with such precision? I use a spreadsheet I created to keep track of my transactions.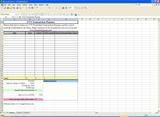 You can download it for free: CVS Spreadsheet

If you have any questions about my spreadsheet or have suggestions on how to improve it, please let me know! (Just because I know how it works, doesn't mean everyone else can read my mind!)
If you do not have Microsoft Excel on your computer, go HERE to download Open Office. It is a free program and works will work with any computer system.