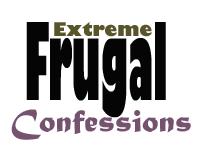 Extreme Frugalness. Tight, cheap, stingy? You know what I'm talking about and personally, I love it.
fru·gal
– Practicing or marked by economy, as in the expenditure of money or the use of material resources.
ex·treme
– Most remote in any direction; outermost or farthest: the extreme edge of the field.
– Being in or attaining the greatest or highest degree; very intense:
After reading the article on the WSJ.com,  "Hard Times Turns Coupon Clipping Into the Newest Extreme Sport," I was amused. I'm nowhere near as extreme as some of these super savers in the article Jane4Girls, who is shown with her $1,000 grocery saving trip – but I stockpile things we need when there is a good sale.
What do you think?