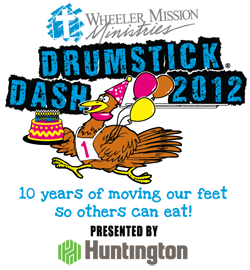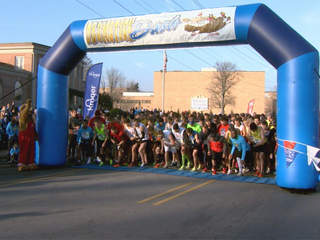 Briana and I raced in the Drumstick Dash at Broad Ripple, Indiana for our first time this year!  This is our official race recap!
The 2012 Drumstick Dash was held on Thanksgiving day, Thursday, November 22, 2012.  This was the 10th anniversary of the race.  Benefits went to a great cause, The Wheeler Mission Ministries with official mantra, "Moving Our Feet So Others Can Eat."  The race took place in Broad Ripple (near downtown Indianapolis), Indiana.
Briana and I left my house at about 6:30AM.  We picked up our friend Kita on the way to the race and parked near Broad Ripple High School on one of the side roads.  After we arrived we walked to check-in at the Broad Ripple High School main gym and got our awesome shirts & packets!  This year the shirts were light blue.  They are always long-sleeved brooks light fit shirts.  The shirts are really nice!  We met up with some of our friends, Cassi, Emma, Hailee, Lela, and the Mikes then we all managed to somehow split up.  With over 15,000 participants it was pretty easy to do!  The only bad thing was that with so many people, cell phone signal was few and far between.
We managed to find each other after the race and were back in our home town by 11:00AM!  I was exhausted.  Briana and I made it to our family Thanksgiving with plenty of time to spare.  This year we ate guilt-free after running the 4.6 mile race.  I would love to run this race again next year!  The entire day was very smooth and I'm so glad we went!  Were you there with us?  What'd you think?!
Drumstick Dash 2012 Official Results
Be sure to check out the Get Fit Friday Black Friday Deals!