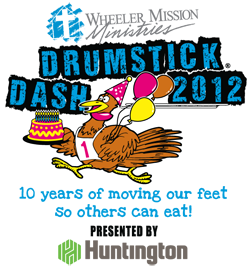 Distance Training can be fun!  After all your hard work of logged hours walking and running, celebrate with a fun run like the 2012 Drumstick Dash, taking place in Broad Ripple, Indiana on Thursday, November 22, 2012!   Run the main course for 4.6 miles or even do the short course if you're in a hurry for 2.5 miles.
Sometimes distance training can start with a race.  Walk or run to measure your starting point and plan to participate in another fun run in a couple months.  In the past, races have been awesome motivation for my workout programs!  They are fun and often the proceeds support a great cause!  You'd be surprised how quickly these races go because you're with your friends and have plenty of entertainment around you to keep your mind busy.
My favorite 5K race that I ran was the Purdue Challenge.  Proceeds supported cancer research at Purdue.  Do you run or walk distance races?  Have a favorite?  Tell us in a comment below!
After your long run, get some R&R with these spa, haircare, nutrition, and wellness deals from The Simply Well Book.  Enter today for your chance to win a FREE Simply Well Book (Indianapolis, Indiana), one of the many holiday giveaways going on now.