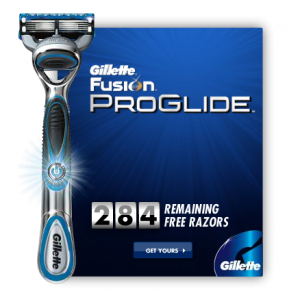 Looks like quite a few of you are having trouble with the Gillette Fusion ProGlide FREE razor offer. (The counter says there are some still left and it surprises me…but I know you are having troubles.)
Here's a few tips:
If you can't see the above in on the Gillette post, you may need to try a different browser. It is working for me on Safari. Others have reported that IE 8 works too.
This will connect you with Facebook. You can always remove the connection after you get your FREEbie!
If you have ever requested a FREE razor from Gillette before via Facebook or one of these widgets, you will probably not eligible. I'm not sure if this is tracked by your email, Facebook account, or address. I know it stated I wasn't eligible because I had already received a FREE razor but if I did it has been a long time.
Hopefully this will help you get your FREE razor! I apologize for any inconvenience. I've been sick all day and haven't had a chance to contact the Gillette people who provided the widget.
Good Luck!