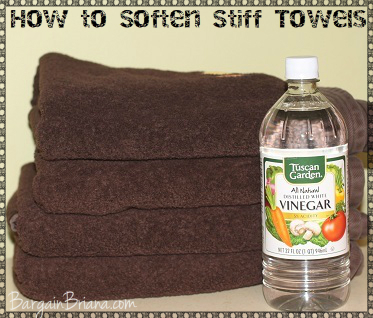 After time, towels can lose their absorbency and become stiff. I've read that the main reason for this is the build up of fabric softeners. Once they start to get stiff, it's harder to clean your towels and you may notice a musty type of smell no matter how often you clean your towels. The reason is this build up and there is an easy fix for it instead of going out and buying all new towels!
The fix? 
Our friend vinegar which is around $0.80 at ALDI or you can buy in bigger bulk at the discount warehouse stores. Just add around 1 cup during the rinse cycle or put in your fabric softener slot in your washing machine.
If you are worried about your towels smelling like vinegar, you shouldn't worry as I've been adding vinegar to my laundry for awhile now and the clothes come out smelling fresh and nothing like vinegar.
Find more DIY Household Cleaners and Spring Cleaning and Organizing posts.