June is National Dairy Month and to celebrate the kids and I had some fun. June is the perfect month for ice cream in Indiana as it is warming up but it's not so hot that the ice cream is melted before you even get it out of the container. Interesting fun fact, Indiana ranks second in the nation for ice cream production. We scream for ice cream in this state!
To have fun, I decided to make the kids work for it tonight. They had already had a little ice cream with their strawberry pie at grandma's house earlier in the day so working off a few extra calories for their ice cream sounded like a fun idea. Enter the YayLabs Play and Freeze Ice Cream Maker.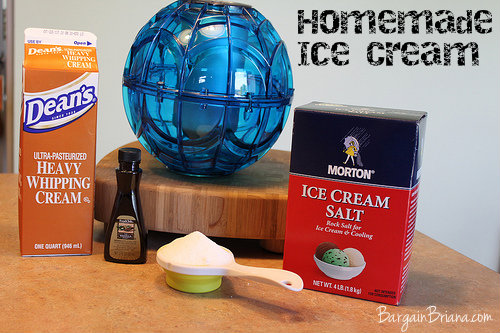 We gathered up our supplies to make some delicious homemade ice cream. Per the instructions on the ball, all we needed was ice, rock salt, dairy product, sugar, and vanilla. The heavier type of dairy product you choose, the less you will have to shake and roll the ball. We could have used the milk in our fridge but we went ahead and used the heavy whipping cream to make a thicker and quicker ice cream while playing.
With this method you are going to work for it. I was sweaty just after putting the ingredients in since I had to keep beating down my bag of ice to get the ice small enough to fit in the ball. It isn't a perfect method and I thought I was losing the kids interest at first. They seemed a little bored just shaking and rolling the ball. I was starting to panic thinking I did not want to be shaking this ball for 20-30 minutes by myself. Soooooo…….I decided to make it a game to see who could roll the ball on the driveway the farthest. This hooked them. I made my first vine that you can watch!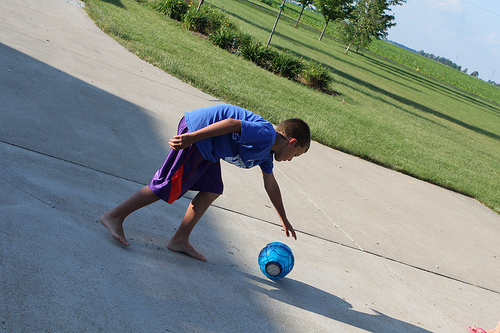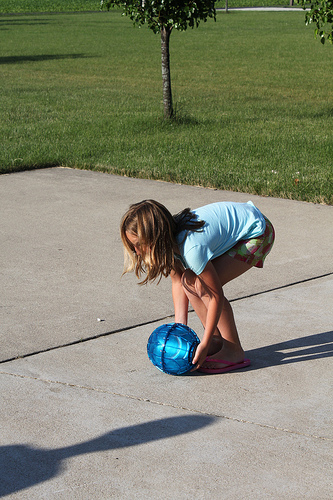 Of course, I didn't read the instructions completely before starting so make sure you read them thoroughly before starting! I ended up putting the entire cream mixture in at first instead of doing half, shaking for 10 minutes, and then adding the rest. Which meant the stuff in the middle wasn't nearly as thick as the stuff on the outside edge. Oops! Typical Briana! I hate reading instructions. It was fine as the kids LOVED drinking the more liquid part of the ice cream and it was just like a milk shake.
Again, with this method you will work hard. You will have fun. You will enjoy delicious homemade ice cream.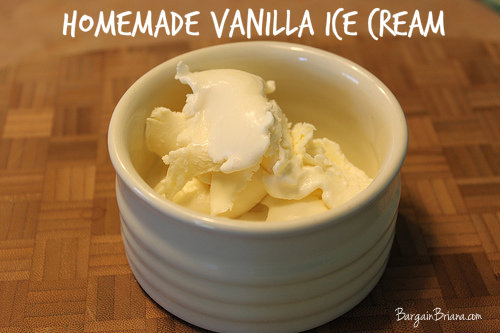 The kids can't wait to do it again. I think it will be a fun poolside activity at grandma's house this summer but I'd prefer the next batch be made in our Cuisinart Pure Indulgence Ice Cream Maker for a larger batch with less work.
Some Fun Dairy Facts
An adult cow drinks nearly a bathtub full of water a day.
June Dairy Month originated at National Milk Month in 1937. It changed to National Dairy Month in 1939 to reflect all the choices dairy foods offer—with milk, cheese and yogurt products available in varieties like low-fat, fat-free and lactose free.
 Some cows wear pedometers to monitor how many steps she takes a day—time spent walking can be a sign of how healthy the cow is! (I wonder if they are wearing their Fit Bits too?)
Dairy farming and processing contributes $810 million to the Hoosier economy every year and creates 8,220 Indiana jobs
Learn more about Indiana Family of Farmers at the following links: 
Since it's June Dairy Month, this is also perfect timing for me to announce something very exciting for me! I've been chosen to be a Dairy Refuel Runner Ambassador. If you follow me on Twitter you will see me posting my training for several upcoming 5K's in Indiana using the #WinnersDrinkMilk hashtag. Studies have shown that chocolate milk is the best recovery beverage after a hard work out and it's also the official refuel beverage of IRONMAN. I won't be doing anything that hard core but I will working to improve my 5K race time!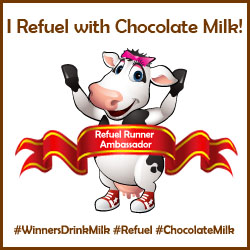 This post was sponsored by Indiana Family of Farmers. This Post was written by me and was not edited by the sponsor. Read more on my Disclosure Policy.