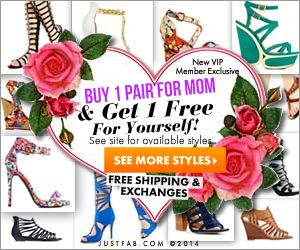 The JustFab philosophy is that the overall fabulousness of an outfit is based on the compilation of many stylish elements each of which should be high on style, but low on price. Plus, every woman deserves to have her own fashion aficionado at her fingertips.
As a member, you'll have style experts (advised by the founders of WhoWhatWear.com), who'll review your personal fashion sense before combing through the shelves. That means… YOU (and your MOM) will be getting the personalized, star-treatment you deserve, without the high-end price tag.
Check it out over here at JustFab!
Want to save loads of money shopping online? Check out the latest online shopping deals.