Quit spending dollars for a few seconds of music when you can use music you already own or download through iTunes for much less. Even if you buy a new song through iTunes at .99, you are saving money because you are buying the entire song instead of just a few seconds of the song. In addition to the money you are saving, you are in control of which clip of the song is your ring tone!
Here's how to do it:
1. Open iTunes. Go to Preferences. Click on the "Import" Settings. Note: I'm using iTunes 8.0. If you have an older version of iTunes, there may a import subtab instead of being on the General Tab.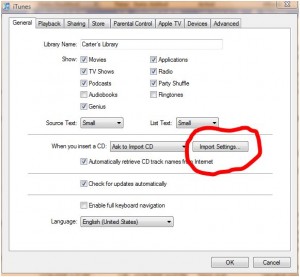 2. Choose Custom Settings. A new window will be brought up. Set your settings to look like this: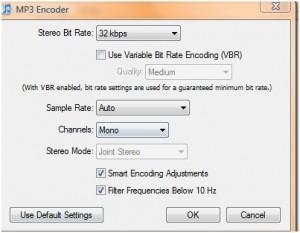 3. Choose the song you want to make a ring tone. Right Click it. Choose Get Info.
4. Click on Options. Here's where you adjust the start time and end time. You will probably have to experiment here to get what you want. It is recommended to keep the clip to around 30-40 seconds.When done, click ok, ok. to close out windows.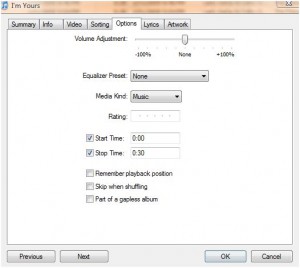 5. Click Ok when complete. Right click on your song again. Click "Create MP3 Version."
6. You are now ready to send the song to your phone. If you are on Verizon (I am), you can email it yourself by sending it "your number"@vzwpix.com.  Locate your file on your computer by right clicking your song. Click on "Get Info."  Then attach your file to your email.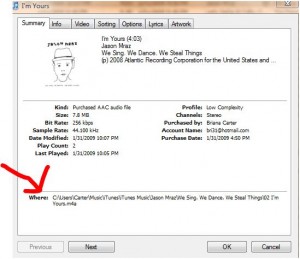 7. You should receive the ring tone to your phone within a few minutes. It will then show up in your SMS, MMS text messages. Depending on your phone, you will have to save the ringtone to your phone or you can save it directly as your ring tone.
8. Enjoy saving money and making ring tones for yourself and your friends!
If you don't have iTunes, you can also make your own ringtone with the same concept by using a song editor (just google), and cropping the song for 30-40 seconds.
Do you think it would be weird if I sent "I'm Yours" to my cousin's husband? It is his favorite song!