The following is sponsored content. All thoughts and opinions are my 100% my own.
Following your passion is something I want to encourage my children to do. Kids are more confident when they are passionate about something and are able to express themselves in the way that they want. Of course, I was excited to hear about the new product line at Build-A-Bear that encourages children to find their passions and overcome obstacles by instilling a sense of confidence and inspiring self-expression.
Things just got even more exciting at Build-A-Bear Workshop with their newest product line – Honey Girls. The Honey Girls product line was designed to encourage children to find their passions and overcome obstacles by instilling a sense of confidence and inspiring self-expression. This new edgier line features three friends who met at school and form their own band. Music brings them together but their friendship keeps them together.
The story of the Honey Girls goes beyond music and embraces the importance of friendship as they leverage each other's talents and strengths. Teegan is the fearless and bold lead singer. Risa is the creative guitarist. Vis is the drummer, who is a great friend and talented inventor.
Each Honey Girl character can be customized with a special plush star, which represents an aspirational trait that complements the Honey Girls empowerment theme. Each star is a different color and represents something different including traits like creativity, confident, talented, smart, fearless, and strong. Each Honey Girl comes with one plush star to stuff inside during a Build-A-Bear's signature heart ceremony. If you wish, you can purchase as many additional stars as you want.
Interact with the Honey Girls by following their journey as a band through their exclusive Honey Girls Studio App, which will be available in July. In this interactive app, children will have access to biographies, music videos, a music video maker as well as memory games and the ability to unlock special features. I know my child will be extremely interested in playing around with the music video maker as she loves to create her own videos.
Honey Girls will be available for purchase online starting on July 8th at BuildABear.com/Honey-Girls and in-store at Build-A-Bear Workshops starting on July 10, 2015. Each character retails for $28 and outfits and accessories are sold separately. Each one of the Honey Girls will travel home from the store in a specially designed condo that converts into a stage for at-home performances.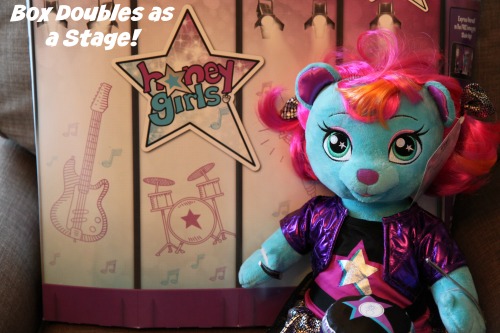 Join the Honey Girls conversation by tagging @BuildABear on Facebook, Twitter, Pinterest, or Instagram. Follow Build-A-Bear on Facebook, Twitter, Instagram, Pinterest, YouTube to keep up with the latest news and promotions!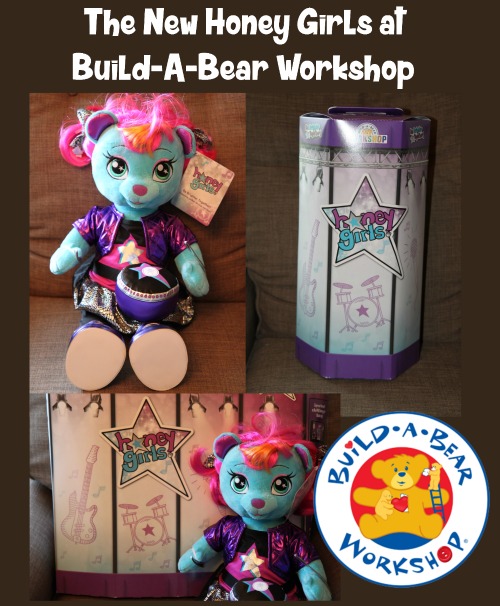 Giveaway
We have a fun giveaway for you! One lucky Bargain Briana reader will win a $100 Build-A-Bear gift card.
This giveaway was sponsored by Build-A-Bear via the Mom it Forward Network. Rest assured, this Post was written by me and was not edited by the sponsor. Read more on my Disclosure Policy.