This is a Sponsored post written by me on behalf of Kalahari Resorts for SocialSpark. All opinions are 100% mine.

A few week back, I mentioned that my family was heading to Kalahari Resort in Sandusky, Ohio. My kids had been begging to go to another water park and it was near the end of summer so it was almost perfect timing. I say almost because my husband already had a fishing trip planned that weekend so he was unable to go. This meant it was just me and 4 kids – ACK!
We were welcomed at the door with a African themed motif and were quickly processed in the line. I was pleasantly surprised to find out we had a family suite, which meant a private bedroom, living room, kitchen, two bathrooms, and a separate room with two beds for the kids. If I had known this, I would have invited a friend.
If we had more time or stayed for additional days, we would have had lunch in our room as this suite had a fully stocked kitchen. We did pop some pop-corn as a night time snack. Every room has at least a mini-fridge and microwave, which can help you cut expenses. There are variety of restaurants throughout the resort if you don't want to mess with making your own. On a side note, I was pleasantly surprised there were quite a few vegetarian options to choose from at the restaurants we dined at.
Here's a view of the living room, which had a pull out coach, TV, and two chairs. It was very spacious. Though, with everything that is available outside of the rooms, I wouldn't foresee using this room much.
As I mentioned previously, it was me versus four kids. The kids range from age 5 to age 13, with varying swimming abilities. Any child under a certain height was required to wear a life vest, which was a great way to force her to wear the vest. The older two kids took off on their own to ride the bigger slides and eventually came back for their younger brother who was excited he was tall enough to go down those slides as well.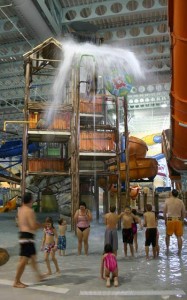 The youngest child spent most of her time running around and mysteriously always getting to the front of the line in the Leopard's Lair. This was a fun area with slides, climbing ropes, waterfalls, and more! In the Lair, we met up with Marcy (Stretching a Buck) and her family. Our two little girls had a blast taking over this area.
My youngest son enjoyed the indoor water basketball area. It was very competitive in that area. All the kids and mom enjoyed the wave pool. I didn't personally get to go down any of the slides because I was unable to convince our youngest daughter to go with me. Though, everyone else enjoyed them and felt like they were able to go down a variety of water slides.
The kids were in awe of the Safari Adventures Animal Park. You can feed the animals in there, pet them, and just enjoy watching the variety of animals. The older two kids had fun in the outdoor rope course. They wanted to zip line but didn't want to wait and we ran out of time to do it later. There was truly so much for the kids to do.
I didn't hear an "I'm Bored," the entire trip. In the evening, they were entertained in the arcade for hours. I had to drag them back to the room as they were having so much fun. If you are looking for a fun, active, family getaway, this is the place to go. There is something for everyone with a variety of indoor and outdoor adventures. Plus, if you have time, there is a spa for mom to have a little quiet time. Kalahari Resorts also has a exclusive offer for my readers to save on your stay.
IZEA and Kalahari Bloggers are also giving away a FREE one night stay for a family of 4, including access to the indoor/outdoor theme parks, bowling, and golf. The prize is valued at over $200. You can enter by leaving a comment on the contest post, where you can also view the full contest rules.
See the fun in action here:
Follow Kalahari Resorts on Twitter and Facebook for the latest news.