I have a frugal confession to make. I'm not always 100% frugal. In fact, I recently violated one of my favorite tips to give others.
Make a list and STICK to it.
So here's the situation.  We had returned home recently after a vacation. We needed all the necessities from the store like milk, bread, fresh vegetables and fruit.
Instead of doing one of my coupon shopping trips or make a trip to Aldi, I shopped the grocery store in our town to pick up these items. I was really short on time and needed a quick in and out after work and before our evening activities.
I headed to the produce. I wanted to get some fresh fruit. I made a major splurge, which is completely ridiculous and frivolous looking back. Even my husband thought it was ridiculous that I made this purchase.
But I wanted it.
I thought I deserved not to have to chop fruits this week.
So I made a impulse purchase in the produce department.
A $18.99 fruit tray.  Yep, I said it. Completely, ridiculous, right? It was the kiwis that hooked me. The store didn't have any fresh kiwis for me to cut, even though I could have purchased every other item by itself and saved at least 50%. I felt like I just had to have those kiwis.
They were tasty and the entire fruit tray was eaten. Eaten in about 1.5 days, which is why it was ridiculous for me to purchase it. It was oh, so good, though.
This week, I made the right decision and bought all the fruits separately. It only took me around 15 minutes to make my own fruit tray while costing just a fraction of the price I paid at the store. It probably didn't really save me much time either because I had an internal debate with myself when I was making the purchase.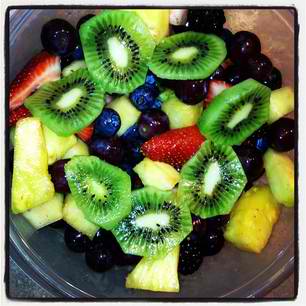 Let's break down the cost of this fruit tray:
1/2 – Pineapple – $0.98 (price for one $1.99) purchase from Aldi
1 – Kiwi – $0.33 (price was 3/$0.99) purchase from Aldi
1 – package Strawberries – $1.49 purchase from Aldi
1/4 package Blueberries –  $0.37 (package cost $1.49) purchase from Aldi
1/4 package Red Grapes – $0.50 (package cost $1.98) purchase from Aldi
3/4 package Blackberries – $1.25 (package cost $1.67) purchase from Meijer
Total Cost: $4.92
Time Spent: 15 minutes
Saved $14.07 by purchasing separately and preparing at home.
I paid almost 4x the amount for convenience. My wallet says: Ouchy, ouch, ouch!
Paying $18.99 for the same thing now makes me a little sick. At least it was a rare occurrence for me to splurge on the fruit tray. In the future, I will tell myself, I will save
Are there any produce items you will pay for convenience?